Jan Schmidt
31 Aug - 02 Nov 2012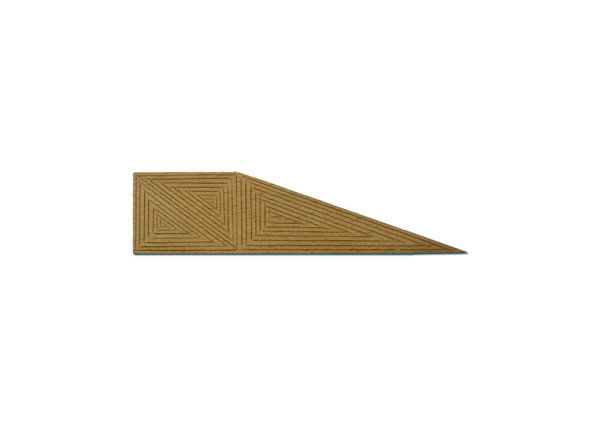 © Jan Schmidt
Retour d ́un kilo de clés, 2007
Keile, Quittung, Fotos in Tischvitrine, Maße Vitrine 140 x 70 x 80 c
JAN SCHMIDT
durchgespielt
31 August – 2 November 2012

Characteristic of virtually all work cycles, which Jan Schmidt (b. 1973, London) who studied at the Städelschule and at the Academy of Fine Arts in Mainz, realizes, is an analytical questioning.
For the works in this exhibition, the artist brought the medium of painting, as well as traditional genre boundaries into question.
A series of large-scale canvases focuses on the absolute reduction of its own. As in the laboratory Schmidt has dissected the inner workings of his medium and printed them on the fabric. The colors are reversed. Patterns emerge, not much more and no less than composed deconstructions. It's about the medium and less about a particular content, except possibly, that less is more.
Schmidt's craquelés radiate a special fascination. Craquelés are cracks on the surface of paintings or varnishes. Often due to aging and influenced by climatic changes these fractures are signs of time, which dig into the material and then become independent.
Schmidt transfers the networks of cracks in the surface of old masters occurred over the centuries into elaborately prepared white canvases, which correspond in size and material, to their role models.
Historical positions such as The Penitent St. Jerome and a Young Carmelite Monk by Fra Filippo Lippi,
are however copied in a very personal way. Here too, the artist is interested in their materiality, and not in their content. The crackle is considered as a fingerprint of the image, as an individual pattern, which has been created by chance. The filigree drawings document the physical condition of the painting. But at the same time Schmidt's craquelés copies begin their own life, which is affected by their environment and makes them autonomous works of art.
Whether Schmidt's large canvases, on which he has printed the components of the stretcher, his razor-thin support legs, which carry out their original function of supporting through their apparent instability to absurdity or his craquelés, it's always about function, form and the passage of time. (Anna Feldhaus)
In 2013 Jan Schmidt will have two solo exhibitions at Kunstverein Ludwigshafen (Opening: January 18th) and at the Museum Wiesbaden (Opening: March 1st ). His work was exhibited in institutions like the Städelmuseum, Frankurt; the Kunstverein Wiesbaden and Kunsthalle Mainz. Jan Schmidt was awarded with a scholarship by the Studienstiftung des deutschen Volkes and Cité des Arts, Paris. Amongst other prices he received the Grafikpreis of Nordrhein-Westfalen.