The Jack Goldstein Connections
20 Nov 2009 - 30 Jan 2010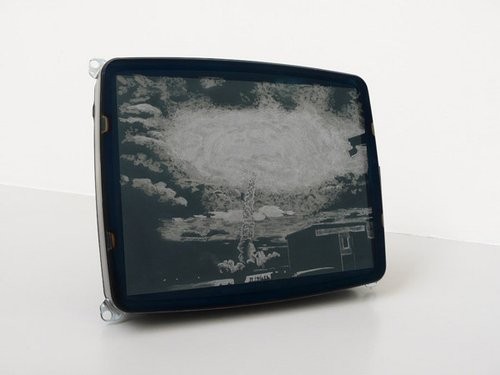 © Monica Ursina Jäger
half forgotten dreams.6, 2008
engraving on cathode ray tube
35 x 48 x 50cm (13,8 x 18.9 x 19,7 in)
THE JACK GOLDSTEIN CONNECTIONS

Jack Goldstein | Romeo Grünfelder | Gregor Hildebrandt | Monica Ursina Jäger | Clare Langan | Bjørn Melhus

Duration: 20.11.2009 – 30.01.2010

The exhibition "The Jack Goldstein Connections" at Galerie Anita Beckers presents paintings by one of the most important and yet unknown artists of the last thirty years, the Canadian-born Jack Goldstein (*1945-2003). Currently, the Museum of Modern Art in Frankfurt (MMK) presents an extensive retrospective devoted to this artist (October 3rd – January 10th, 2010).
The exhibition in the gallery tries to confront Goldstein ́s works with those of Romeo Grünfelder (*1968), Gregor Hildebrandt (*1974), Monica Jäger (*1974), Clare Langan (*1967) and Bjørn Melhus (*1966). The show brings into dialogue the work of Jack Goldstein together with that of younger artists exploring what could be thought of as some Jack Goldsteins ́s most influential ideas and legacy.

In Goldstein ́s tradition and somewhere in between seriousness and entertainment, Bjørn Melhus and Romeo Grünfelder use found film and sound footage in their works. Romeo Grünfelder ́s short film "desi're", appropriates an old celluloid film labelled as belonging to the estate of Jack Goldstein. Due to partially missing data, the place, time and author of the film cannot be surely determined leaving us in the dark as to its authorship and production circumstances.
With the statement of Jack Goldstein: "I wanted to make a film with a drowning man, but instead I made a record with a drowning man," a trail is left but the mystery of authorship remains unsolved.

The sound footage of mainstream movies are the starting point for the video works of Bjørn Melhus. In "Murphy" Melhus uses the sound material from the American film "Blue Thunder" (1982), in which the sound of a fight between two helicopters over Los Angeles turns into flickering colour fields. A minimal film without images, which re-activates the inner cinema in our heads.
The apparent sound quotation of Marilyn Monroe's voice in "Happy Re-Birth" in connection with the image of the artist as a blue smurf, is a crossover of two pop icons in sound and image.
Gregor Hildebrandt's work, perform the most radical transformation process. In his monochrome works, he mainly uses music or video tapes as a substrate, giving rise to subtle arrangements within the image. However, the captions of the works refer to songs of the Punk and new wave era, in this way triggering a transformation process back to the original material.

This strategy of expressing ideas traditionally represented in one specific media into a new unconventional one was especially explored by Goldstein in his record series. Goldstein thought that some of his filmic ideas were better served as recorded coloured vinyl's with a determined sound and a specific title, resulting in richer and more complex associations to the viewer ́s mind. This "transfer" of medium can also be seen in Monica Jäger ́s "Half forgotten dreams" (2008), in which apocalyptical visions are engraved into a new and unconventional material that of cathode ray tubes.
Her compositions are based on natural phenomena and disasters, and images of war or other based media-transmitted events.

Clare Langan ́s catastrophic and dramatic landscapes invoke a painterly perception of reality the same way Goldstein ́s interest in natural phenomena achieves an intense aesthetic quality. This ultimate idea - the replacement of experience for aesthetics in consequence of technology – was expressed in one of Jack Goldstein ́s most famous aphorisms: "Technology does everything for us so that we no longer have to function in terms of experience. We function in terms of esthetics".

Favouring the crossover between film, painting and music "The Jack Goldstein Connections", brings together a group of artists who despite their different backgrounds and interests seem critically engaged in the reflection on media-transmitted images of Western culture and their spectacular character in consequence of our media technologies.