Yves Netzhammer
27 Feb - 18 Apr 2009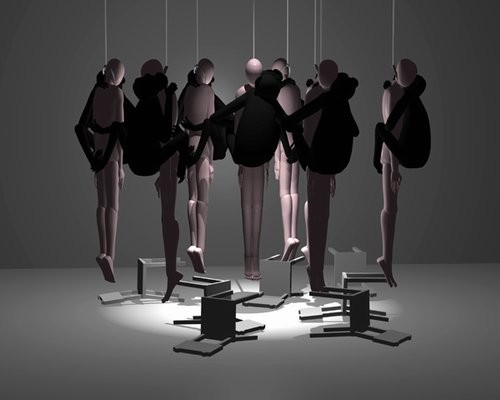 © Yves Netzhammer
Die Möbel der Proportionen / Furniture of Proportions, 2008
video still
DVD Video / PAL
28.03 min, loop
YVES NETZHAMMER
"Die Möbel der Proportionen" 2008 (Film, 28:03 Min.)

Duration: February 27th - April 18th, 2009

In his films, Yves Netzhammer has developed an entirely personal visual language and visual aesthetic. His pictures are characterized by a 'technoid artificiality'. The human shape is faceless and without individual features, they are virtually calculated bodies which move slowly and in an awkward manner. Nonetheless, their actions and deeds immediately evoke associations and trigger emotions in the viewer.

The film "Furniture of Proportions"consists of separate film sequences of varying length. The dramatic composition of the film does not correspond to any text-oriented, and thus, goal-oriented narrative structure. It is not exactly the storyline from a feature film, in any event. The sequential order of the scenes is much more similar to the circular patterns of our cognitive world. Thoughts traverse our minds, one throws some of them out now and then, only to retrieve them later and deepen them. In the "Furniture of Proportions", disjunctive narrative structures evolve in this way, which draw the viewer into the film and repeatedly arouse curiosity in him/her, thus revealing the central themes of the film in an artistic manner.

In then end, the more polished scenes contribute less to actually communicating the existential theme of the film. By means of empathetic, cascading visual impressions, Yves Netzhammer attempts to make the restless feeling for the 'difference to the other' a subject of artistic discourse.

Mara Stock

Within the context of the exhibition, the newly published artist's book by Yves Netzhammer will be presented to the public. Published by Hatje Cantz, this comprehensive illustrative and textual material documents all Yves Netzhammer's major projects.
The artist's book is also available at the Gallery for EURO 50.00.