Max Bill
19 May - 30 Jul 2011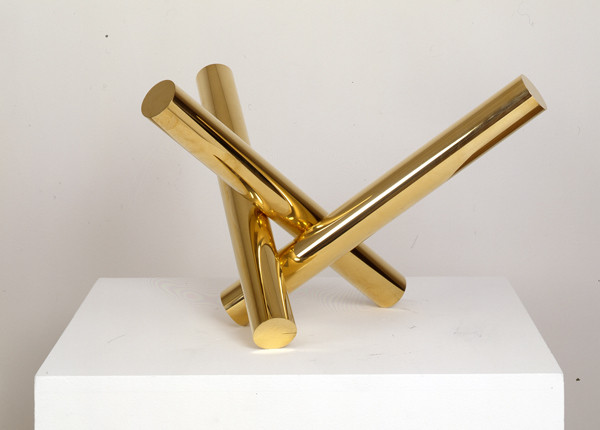 Max Bill
einheit aus drei gleichen zylindern (unity of three equal cylinders) 1966
brass, gilded
cylinder length 54 cm each
MAX BILL
Five Decades
19 May – 30 July, 2011

Annely Juda Fine Art is pleased to announce an exhibition of the works of the influential artist max bill, (Swiss, 1908-1994). The exhibition will include sixty works: paintings, drawings and sculpture from the 1930s through the 1980s. max bill,'s work is rarely seen and a solo gallery exhibition has not occurred in London for nearly thirty years.

Architect, sculptor, painter, typographer, draftsman, curator and professor, Bill spent his early and formative years at the Bauhaus where he studied under Klee, Kandinsky and Albers between 1927- 1929. Moving shortly thereafter to Paris, the young Bill exhibited with the group Abstraction-Creation, along with Mondrian, Brancusi and Arp. He was engaged with several British artists also affiliated with this group such as Barbara Hepworth and Ben Nicholson, and formed a lasting friendship with Marlow Moss.

He is one of the seminal figures in Concrete Art and helped to form the Allianz group in 1937, which held a strong emphasis on colour theory that Bill carried throughout his work since his time at the Bauhaus.

Notable in the current exhibition are the painted works that juxtapose colours from subtle to explosive in a way that makes one entirely rethink the spectrum. Coupled with Bill's extraordinary skills of geometric abstraction, which flow especially into his sculpture, the show is a dynamic interaction with some of the core principles of 20th century art.

max bill, was known also for his contributions to architecture, design and typography, the current exhibition shows max bill, as a corner- stone of modernism, who was highly influential to generations to follow throughout the larger international stage. Some of his strongest disciples and admirers have been in Italy and Brazil, where he lectured in 1953, and where he made an incredible impact on geometric abstraction that carried throughout the Latin American art community.

The exhibition is accompanied by a 96 page catalogue, with an essay by max bill,'s widow, the art historian Angela Thomas Schmid. A film of Bill's life max bill, - a master's vision and work written and directed by Erich Schmid in 2008 will be shown in the gallery during the exhibition.

Annely Juda Fine Art has included the work of max bill, since 1974.