Nobuyoshi Araki
08 Jan - 07 Feb 2009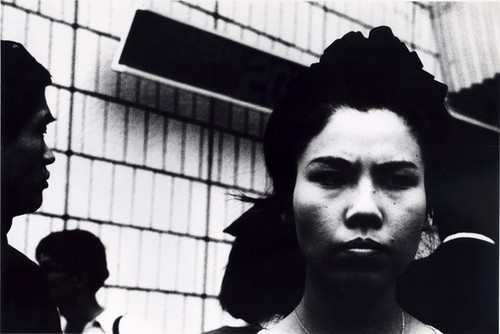 © Nobuyoshi Araki
Ginza (3205-1),
B/W Photographs
17 x 14 inches
AK #6423
Courtesy Anton Kern Gallery, NY
NOBUYOSHI ARAKI
"1960s Photographs"

January 8 – February 7, 2009

December 10, 2008, New York—This first-time exhibition of unknown material from the 1960s by Japanese photographer Nobuyoshi Araki will stir up expectations and preconceived notions. Well-known for his diaristic and upfront erotic photography, which he produced with an unparalleled appetite for life from the 1970s on, this vast and unfamiliar early body of work will join the discourse of "street photography," and enter into a realm so much defined by such 1960s New York street photographers as Garry Winogrand, William Klein, and Robert Frank. This exhibition will shed light onto an aspect of Araki's work that people might not be familiar with.
A body of work entitled Ginza will comprise approximately 200 prints, culled from an archive of thousands of black-and-white images and installed here in a large floor-to-ceiling grid. Ginza is named after Tokyo's high-end shopping and restaurant district.
A second body of '60s photographs, simply called Subway, and a dozen extremely rare vintage prints from the 1970s will round off this exhibition.
With a career that now spans five decades, Araki's output is vast. He has over 350 books to his name, and his work has been exhibited in numerous solo museum shows worldwide.