Saul Fletcher
31 Mar - 30 Apr 2011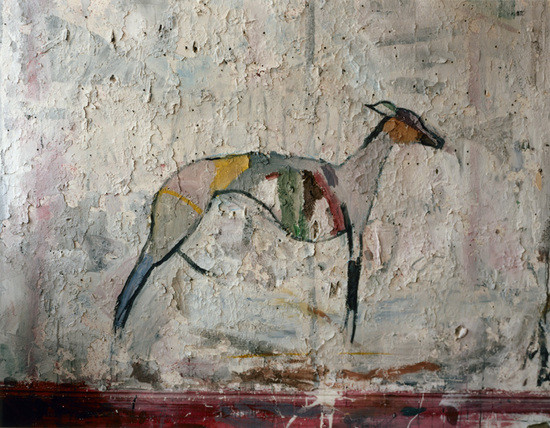 © Saul Fletcher
Untitled # 227 Dog, 2011
C Print
5 9/16 x 7 1/8 inches (image size)
Courtesy Anton Kern Gallery, NY
SAUL FLETCHER
31 March – 30 April , 2011

March 17, 2011—In his sixth solo show at Anton Kern Gallery, UK-based artist Saul Fletcher presents a body of 32 photographs that consists of new images as well as images taken 17 years ago and printed now for the first time. This slightly unruly chronology is intensified by the artist's
characteristically small-scale prints and the variety of materials and printing techniques employed. Mixing c-prints, silver gelatin prints, and Polaroid film, in combination with images of an uncertain geneology, the show creates an atmosphere of timelessness.Fletcher carefully establishes a mode of psychological authenticity. He creates images of time at its most motionless, frozen winter landscapes, shadowy interiors and dulling mirros, palimpsest walls on which old markings have been partially erased to make room for others, portraits of parents and friends, whose age and date remain ambiguous. Fletcher's deeply emotional and melancholic imagery suggests grim mental states, obsessions, mysteries and dark secrets. The artist makes the viewer a witness of his personal emotional dream while keeping the sentiment quiet, or, "intimate," as artist and writer Jimmy Raskin observed in an essay about Fletcher's work (BOMB magazine, no. 115 / spring 2011):
The scale factor teases emotion. Scale is visceral thrill when pushing unexpected opposites. [...] It's a Poet's technique: taking the simple and amplyfying its meaning; taking the complex and making it simple. [...] We are invited to participate in Fletcher's psychological landscape not by the theatrical and monstrous howl but through an acute whisper.
In addition to numerous gallery solo exhibitions in Europe and New York, Fletcher's work has been included in group shows at the Center for Curatorial Studies Bard (2011, 2010, 2009 and 2008), the Rose Art Museum (2009), the Miami Art Museum (2008), the 4th Berlin Biennial for Contemporary Art (2006), and the Carnegie International at the Carnegie Museum of Art, Pittsburgh (2004).