Treffpunkt : Berlin
12 May - 22 Jul 2012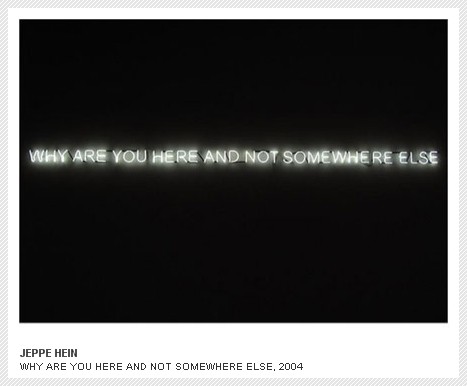 Image: Courtesy Johann König, Berlin, 303 Gallery, New York and Galleri Nicolai Wallner, Copenhagen.
TREFFPUNKT : BERLIN
12 May 2012 – 22 July 2012

The city of Berlin is an attractive and inspiring place to live for artists from around the world. The diversity, the pace, the fairly low rent and not least the international environment make it a unique venue and a magic magnet for anyone concerned with contemporary art. As Berlin has a strong attraction on young aspiring artists with no or little money, the city's mayor, Klaus Wowereit, has even branded Berlin as "arm aber sexy".

ARKEN's exhibition TREFFPUNKT : BERLIN brings together a number of artists with strong ties to Berlin. The works outline an ambiguous picture of Berlin's considerable importance as a practical and conceptual source of inspiration for much of the art that flows from Berlin today. Through photography, installation, sculpture, neon, collage, sound and video, the works concretize the experience of urban Berlin. Common to the works is a dedicated engagement in the social, cultural and architectural reality. The exhibition includes detections of urban atmospheres, stories about the city's structured chaos and studies of the utopias that relate to Berlin's unique combination of past and present time.

Based on the artists' statements from and on the hot and hypermodern capital, TREFFPUNKT : BERLIN shows how artists continue to be inspired by and relate to the brutal yet intoxicating city. A unique and existential urban experience is captivated in the contemporary art from and on the city of Berlin.

The artists in the exhibition are: benandsebastian, Sophie Calle, Elmgreen & Dragset, Thomas Florschuetz, Thilo Frank, Cyprien Gaillard, Jeppe Hein, Jacob Kirkegaard, Jakob Kolding, Søren Lose, Helen Mirra, Simon Dybbroe Møller, Jesper Rasmussen, Agathe Snow and Wolfgang Tillmans.

The exhibition is supported by Augustinus Foundation and Nordea-fonden.