Heinz Mack
26 Oct 2012 - 28 Feb 2013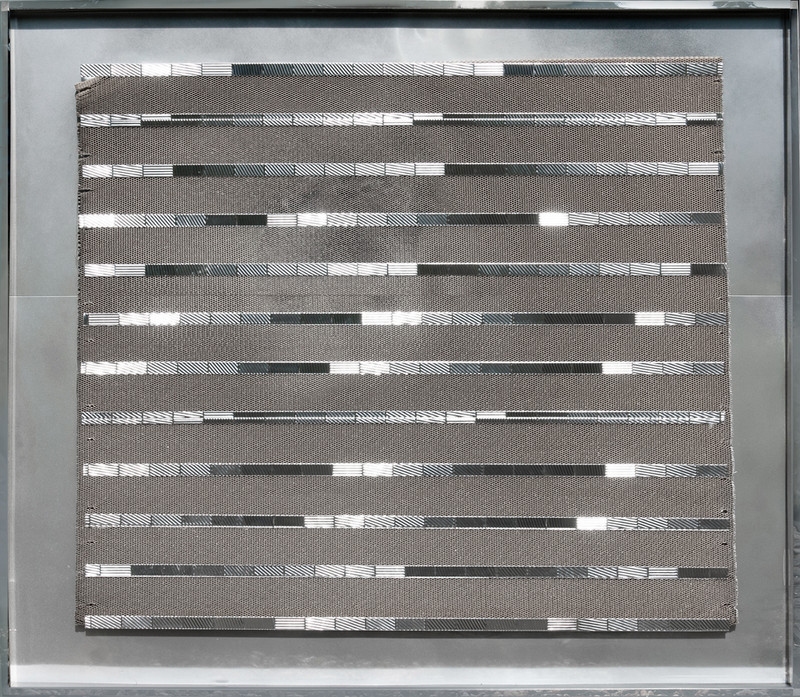 © Heinz Mack
Untitled, 2011
Silver relief Aluminum, wood, stainless steel, plexi glass
145 x 163 x 9 cm | 57.09 x 64.17 x 3.54 in
HEINZ MACK
Heinz Mack in Berlin - Works From 1958 - 2012
26 October 2012 – 28 February 2013

With Heinz Mack in Berlin — Works 1958-2012, ARNDT is pleased to present the hitherto most comprehensive show of works since his retrospective in the Pergamon Museum in 2006.
This show of one of the most important living German painters and sculptors marks the official start of a collaboration between Heinz Mack and Matthias Arndt.
On show will be main works from all periods, starting with the canvas Black & White, 1958 (price on request) already exhibited in 1960 at the Galerie Schmela, along with museum works from the ZERO period, such as White Relief, 1959, the kinetic rotor-work, Prism Whirl, 1960 (Denise René Gallery, New York) and the Cabinet of Light Treasures, 1964. In an exhibition covering almost five hundred square metres, a total of forty reliefs, paintings, sculptures, kinetic works and works on paper from 1958 up to the most recent paintings and reliefs made this year will be shown.
The exhibition formulates a homage of the artist, Heinz Mack, to Berlin where, starting with his earliest artistic work, he has left his mark in all artistic genres in galleries, private and public collections through to his numerous sculptures in public places. This is the first exhibition devoted emphatically to Heinz Mack's relationship with Berlin.
"The exhibition's central concern is not only to show Heinz Mack as the innovative and tirelessly working artist that he is, who has inspired several generations of artists up to current work in art. In addition, for me personally, I am impressed above all by the spirituality of Heinz Mack's entire oeuvre and the optimism it radiates." (Matthias Arndt)
For decades, Heinz Mack continually prescribed for himself the task of researching and representing light in its cosmic dimension. Since the 1960s he has been regarded as one of the pioneering artists for the development of OP art and kinetic art in Germany, whose achievements and international impact are only now being more closely investigated. With numerous museum exhibitions and retrospectives, Heinz Mack's work was comprehensively presented last year on the artist's 80th birthday, making the influence of his creative work on younger generations of artists clearly recognizable.
In his artistic approach, Mack is a humanist who seeks to study and grasp the world in all its facets. He quotes poetry and philosophy as sources for his research, along with the natural sciences and technology. With all means and in all conceivable ways, for decades and up to the present day, the artist tries to enrich and present his knowledge about what light is. However, with Mack, it is by no means simply a matter of the transfer or communication of deeper insights and meanings that are interwoven with the visibility of things. Rather, he places great importance on presenting the sensuous power and limitless radiation of light as a spiritual energy transcending space, but realizing itself in space, dissolving distances. His conception of light is thus a dialectical one in that he always incorporates shadow as counterweight in his aesthetic reflections.
Heinz Mack's extraordinary oeuvre includes monumental commissions for outdoor spaces and the design of public places and spaces. Many of them have been realized in Berlin, including the Light Columns before the Europacenter, the Column Arcades and the Bronze Obelisk on Henriettenplatz, as well as the Piazzetta at the Cultural Forum.

Born in 1931 in Hessian Lollar, Heinz Mack studied from 1950 to 1953 at the Düsseldorf State Academy of Art and in addition completed studies in philosophy at the University of Cologne in 1956. Together with Otto Piene, in 1957 he founded the ZERO group in Düsseldorf. He took part in documenta II and documenta III in Kassel. Apart from stays in New York, working and film expeditions to the Algerian desert and to the Arctic, he was appointed in 1970 to a teaching position in Osaka, Japan, and became a member of the Berlin Academy of Arts, to which he belonged until 1992. At the 35th Biennale in Venice he represented the Federal Republic of Germany (along with Uecker, Pfahler and Lenk). In 2004 Mack was awarded the Grand Order of Merit of the Federal Republic of Germany as First Distinction in recognition of his work and his impact as a cultural ambassador. In 2011 Mack was honoured with the Grand Order of Merit with Star of the Federal Republic of Germany.

Up to the present day, Mack's works have been shown in almost 300 solo exhibitions and numerous group exhibitions. His works are represented in 136 public collections, including in Berlin at the Nationalgalerie, the Kupferstichkabinett and the Berlinische Galerie. Numerous books and catalogues as well as two films document his artistic work. Heinz Mack lives and works in Mönchengladbach and on Ibiza.