Veronica Brovall, Dennis Scholl
17 Jul - 25 Aug 2007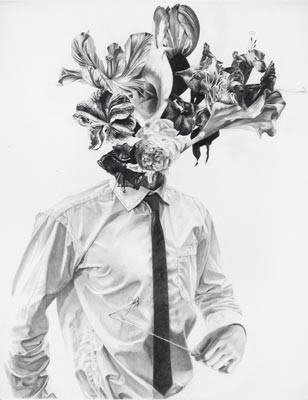 Dennis Scholl, Selbst als Garten, 2007, pencil on paper, 80,00 x 62,9 cm / 31.5 x 24.76 inch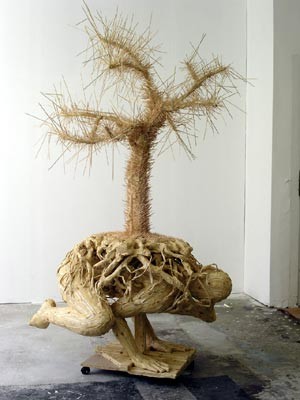 Veronica Brovall, Wurzel-Füllung II, 2007, wood, toothpicks, barbecue sticks, wallpaper, glue, PVC pipes, adhesive tape, plastic foil, steel wire, and PVC foam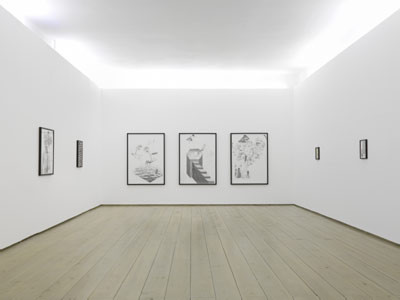 Dennis Scholl - Für Immer Faltung im Zimmer der Tränen
Veronica Brovall - Wurzel-Füllung
17 July - 25 August 2007

Arndt & Partner is pleased to present two solo shows at the Gallery 1th Floor. From 17 July through 25 August the space consuming work "Wurzelfüllung" by the Swedish artist Veronica Brovall and new drawings by the Hamburg-based artist Dennis Scholl will be on view.

In his drawings, watercolors, short films and objects Dennis Scholl attempts to invent a new system of signs, an artistic language free of fixed content. But what would happen if the conventional relationship between signified and signifier was severed? If visual sign and content or meaning no longer stood in familiar relationship to each other? If combinations of visual signs formed their own, autonomous connections to each other instead? This is the territory that the work of Dennis Scholl traverses. He accumulates a plethora of well known signifiers, then combines them in unfamiliar ways until the signifieds they supposedly invoke can no longer be clearly read.

For example, the drawing Selbstportrait als Garten [Self portrait as garden] (2007) depicts a male figure in half-profile. He is wearing a white shirt, his upper body turned slightly away from the viewer so that their eye is drawn to the right side of the body. A narrow black tie sits just above the button facing of the shirt. The figure is very still – a counterweight to the busy folds of the shirt. Under its right breast a small straight object with a cord attached to it protrudes from the shirt. The figure holds this cord. Instead of a human face, exotic orchids emerge from the shirt's collar, their tendrils proliferating into the foreground. One thing is certain: this work does not adhere to the conventions of a traditional portrait.

In her collages and monumental installations Veronica Brovall deals with existential questions of human life as well as a wide range of different kinds of fear. Yet, similarly to the drawings by Dennis Scholl, her works are characterised by ambivalence: On one hand very clear in form, transparent in their simplicity, and impressive in their size. On the other hand, they present energy systems that are difficult to fathom and look bizarre. The objects as such and the links between them frequently defy normal, functional logic. A table at which you cannot eat. A couch with knives protruding. Furniture that cannot be used. The sculptures simply reformulate what she perceives in her daily surroundings. The materials she grew up with, like rubber tires and cars. Or the way people deal with meat and nutrition, their consumer behavior. And last but not least: the way people relate to nature which they are part of. But just as important as the actual shape of these elements is the materiality, the sense of volume, weight and scale that characterize her work. Size matters for this artist. With broad gestures she draws the viewer's attention. Then the details, the texture cause the work to speak and that what the artist call the active part. A point of convergence in which the energy concentrates or conflicts, and a more static or reflective part. In Rootfilling (2006), a life-size lying tree, it is a black human shape which is hiding and clutching the roots underneath the tree, as if it were part of the root system. As the eye of the spectator gets used to the blackness, the figure's outline becomes clear: its arms are spread, sideways and upwards, one leg is lifted. The figure is sucking its toe. An absurd image. As if this human-shaped root were trying to suck nourishment from itself now the link with the nurturing earth has been severed.
And in the exhibited work "Rootfilling II" it is a tree again: small and upright, it has no leaves but is dry and prickly. But again the roots are alive; that is the active part. Underneath is where life can be found.
Brovall's work is always full of energy, which makes her art powerful. The urge and will to formulate things on her own terms is tangibly present. Not with words but visually, physically. Sometimes the logic the artist offers is funny, sometimes harsh, exaggerated and in other instances elegant and light. In short: different.

Born 1975 in Falun, Sweden, Veronice Brovall studied at the "Academy of Arts in Umeå", Sweden. Beside her participation in diverse solo show (recently in Sint-Lukas Galerie, Brussels) and group shows, she already gained numerous grants and scholarships. Since 2003 Veronica Brovall lives and works in Berlin.

Dennis Scholl, born 1980 in Hünfeld, Germany, studied from 2002 to 2006 at "Hamburger Hochschule für bildende Künste" (Prof. Franz Erhard Walther and Andreas Slominski). He works and lives in Hamburg. His works were included to group exhibitions e.g. at "Hamburger Kunsthalle" (2005) and "Kunsthalle Mannheim" (2006).