Zach Blas
Contra-Internet
27 Jan - 21 Apr 2018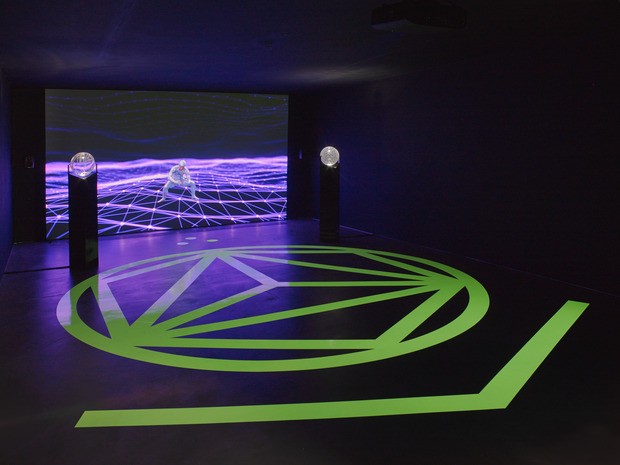 Zach Blas, Contra-Internet, 2017. Installation view, Gasworks. Commissioned by Gasworks, London; Art in General, New York; and MU, Eindhoven. Courtesy of the artist. Photo by Andy Keate.
ZACH BLAS
Contra-Internet
27 January – 21 April 2018
Curated by Laurel Ptak
Art in General presents Contra-Internet, the first-ever solo exhibition in New York by artist Zach Blas and world premiere of his new film, Jubilee 2033. Contra-Internet confronts the growing hegemony of the internet through installation, video works, CGI animation, glow-in-the-dark text, blown-glass sculptures and a single-edition publication titled The End of the Internet (As We Knew It). At the center of the exhibition is Blas's timely science fiction film, Jubilee 2033, which presents a futuristic queer society rising from the ruins of a post-apocalyptic Silicon Valley.
Blas's work could not be more urgent in questioning the troubling economic and power structures currently reshaping the internet amidst the controversial net neutrality repeal in the United States by the FCC. A "neutral" network during the 1980s and 90s, the internet has fast become the principle instrument of accelerated capitalism, surveillance and control: an infrastructure that it is increasingly difficult to imagine an outside of or alternative to. Counter to this, Contra-Internet appropriates queer and feminist approaches to technology and science fiction to reanimate the network's more progressive past and speculate about forms of resistance to the internet of the present and future.
Roughly based on the opening sequence of British filmmaker Derek Jarman's seminal 1978 queer punk film Jubilee, Blas's Jubilee 2033 (2017), starring Queer Icon Award winner Susanne Sachsse and transgender performance artist and Guggenheim Fellowship awardee Cassils, is set in the Silicon Valley of 2033. Known as the Silicon Zone, it is the imagined future of novelist and philosopher Ayn Rand's early thought, as advanced in her novels The Fountainhead (1943) and Atlas Shrugged (1957). Following decades of deregulation, the internet has become an omnipotent "internet of things," defined by the principles of self-interest and laissez-faire that underpin Rand's philosophy of Objectivism.
The film imagines an oppressive, neo-neoliberal, supra-state monopoly that polices the internet, which is indistinguishable from the world as everything falls apart. Flames encircle ransacked office buildings, riots abound, and the corpses of techies litter the streets. In the shadows of a vacant office building, however, the so-called anti-campus rises up. Led by their artificial intelligence prophet Nootropix, eager students are taught history, art, and counter-infrastructure after the collapse of the internet. It is a philosophy against the legacy of Rand: contra-objectivism, contra-Californian ideology, contra-sexual, contra-internet.
Contra-Internet draws on ideas from the queer, gender-critical text Contra-Sexual Manifesto by Paul Preciado, as well as feminist economic theorists J.K. Gibson-Graham's The End of Capitalism (As We Knew It), to reanimate the network's more progressive past and speculate about forms of resistance in a time of network crisis. Other works in the exhibition consider the present state of the internet, showing that the totalitarian network of Jubilee 2033 has in many ways already begun.
In addition to the film, the exhibition includes a critical definition of the internet written by the artist and installed in glow-in-the-dark, web-safe font. An animated gif, Totality Studies, comprises 3D globes with stock images as their skins. These spinning icons demonstrate that recent popular imagery of the internet always seems to convey the same message: that it's big, and it's everywhere. Three short, performative videos titled Inversion Practices (2015–16) utilize various conceptual-technical tactics to abandon and subvert the internet. These include strategies as diverse as erasing images of social media posts in Adobe Photoshop; plagiarizing texts to produce an anti-internet manifesto; and modeling a paranodal space (the space that exists in-between the various nodes of a network) to visualize and think through what networks frustrate, obstruct or occlude as they are constituted.
Co-commissioned by Gasworks, Art in General, and MU. Contra-Internet was presented at Gasworks in London from September–December 2017; will be shown at Art in General in New York from January–April 2018; and at MU in Eindhoven from May–July 2018. Contra-Internet is a project of Creative Capital.
A performance-lecture by the Blas questioning big data's role in mass surveillance, Metric Mysticism, will be presented at e-flux in collaboration with Art in General on January 27. A screening series curated by Laurel Ptak that investigates technology as an active agent in the production of our subjectivity, After Effects, featuring recent video work by Zach Blas, Tyler Coburn, João Enxuto, Erica Love, Pedro Neves Marques, Wyatt Niehaus, Elizabeth Orr, Sondra Perry, Mariana Silva, and Jemima Wyman will be presented in March. More event details to be announced.
Zach Blas is an artist and writer whose practice confronts technologies of capture, security, and control. Currently, he is a Lecturer in the Department of Visual Cultures at Goldsmiths, University of London. Blas's recent works respond to biometric governmentality and network hegemony. Blas has exhibited and lectured internationally, recently at Gasworks, London; Institute of Modern Art, Brisbane; Van Abbemuseum, Eindhoven; Institute of Contemporary Arts Singapore; e-flux, New York; Whitechapel Gallery, London; and Museo Universitario Arte Contemporáneo, Mexico City. Blas's writings can be found in Documentary Across Disciplines (The MIT Press and Haus der Kulturen der Welt); Queer: Documents of Contemporary Art (The MIT Press and Whitechapel Gallery); and e-flux journal. He is producing two books, an artist monograph, and Informatic Opacity: The Art of Defacement in Biometric Times, a theoretical study that considers biometric facial recognition as an emerging form of global governance alongside aesthetico-political refusals of recognition, such as masked protest. His work has been written about and featured in Artforum, Frieze, Art Review, Art Monthly, Mousse Magazine, The Guardian, and The New York Times.
www.zachblas.info