Members' Exhibition & Editions 2015/2016
22 Dec 2015 - 17 Jan 2016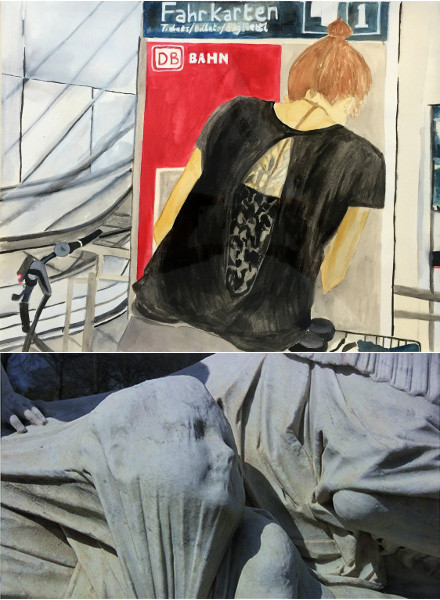 Juliette Blightman, Friedrichstr. Station, Berlin & Suffocating, 2015, gouache on paper & archival pigment print, 27.9 x 34.6 cm (31.7 x 38.4 cm including frame) & 28 x 44.8 cm (32.5 x 49 cm including frame), unique work & edition of 3 + 2 AP, 2200 € (framed), photos: Nick Ash (above), Juliette Blightman (below)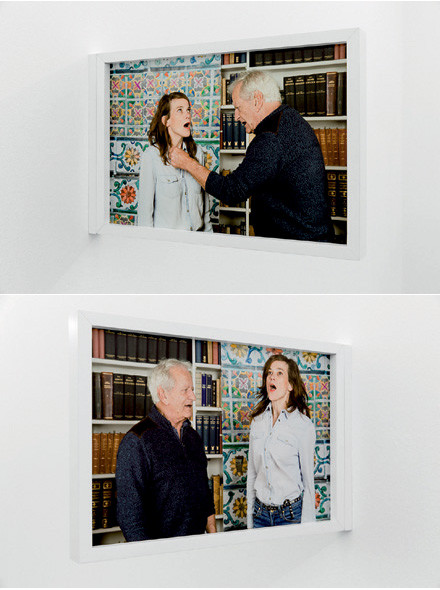 Kerstin Cmelka, The Song-and-Dance-Exercise (with Nicolas Coster), 2015, 2 pigment prints, 26.5 x 40 cm, double-sided Dibond aluminium frame with a 90° wall mount, ca. 28 x 41.5 cm, edition: 7 + 1 AP, 980 € (framed), photo: Felix Grünschloß
Editions 2015/2016
by Juliette Blightman, Geta Brǎtescu, Ruth Buchanan, Kerstin Cmelka, Ellie Epp, Aurélien Froment, Marie Lund, Taus Makhacheva, Iza Tarasewicz
We are delighted to present this year's selection of editions and we thank our artists for their contributions!
The editions will be presented from 22 December 2015 until 17 January 2016 at the Badischer Kunstverein, Karlsruhe. The editions are available for purchase to members of the Badischer Kunstverein. If you're not yet a member, join now and enjoy the benefits of membership for a yearly fee of only € 55 (reductions: € 17 pupils, students, retired persons / € 25 for artists)!

In the annual members' exhibition shows a broad variety of works by the artist members of Badischer Kunstverein. The works are for sale.