Jo Baer: In The Land Of The Giants
20 Sep - 21 Dec 2013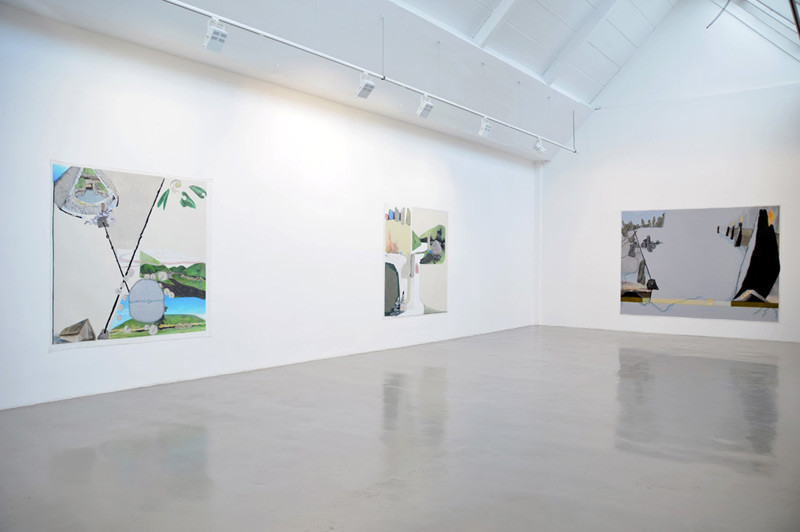 Jo Baer, In The Land Of The Giants, 2013, installation view Galerie Barbara Thumm, Berlin

Photo: Nici Wegener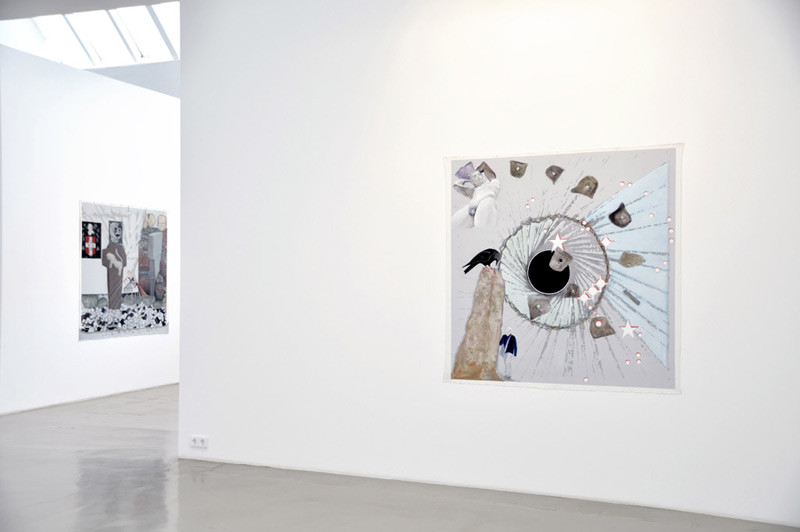 Jo Baer, In The Land Of The Giants, 2013, installation view Galerie Barbara Thumm, Berlin

Photo: Nici Wegener
JO BAER: In The Land Of The Giants
20. September - 21. December 2013
We are very proud and pleased to present the exhibition IN THE LAND OF THE GIANTS - which was first
shown at the Stedelijk Museum in Amsterdam - in the gallery in Berlin. The exhibition was held in
conjunction with the Ludwig Museum in Cologne, which showed paintings and drawings since the 1960s.
IN THE LAND OF THE GIANTS presents a new series of paintings and works on paper by Jo Baer
(b. Seattle, 1929), one of the most renowned contemporary artists today. Since the fifties she has followed
a radical path, was one of the groundbreaking forces of the New York Minimalism of the sixties to which
she turned her back in the early seventies and moved on to rural Irland where she developed what she
called her "radical figuration".
For many years the reception of Baers work focused on the radical break in her work, which was
articulated in the famous article "I am no longer an abstract artist" in Artforum in 1983. Recently the
reading of Baers oeuvre has shifted towards an understanding of the continuation of themes and links
between the different bodies of works. The recent exhibition at the Ludwig Museum impressively proofed
the interconnections and references in Baers oeuvre.
IN THE LAND OF THE GIANTS consists of a series of six paintings, which were developed between 2009
and 2013. This cycle of works is based on her life-long interest in history and science, finishing the last
painting, Royal Families (Curves, Points and Little Ones), in January 2013.
The paintings in the exhibition betray a connection to the Minimalist work. The artist sees these works as
abstract art with images, alluding to their spatial quality. The two earliest paintings of the series,
Dawn (Lines and Destinations), 2009/2011 and Dusk (Bands and End Points), 2012 present large empty
spaces, which the artist intended as a recollection of her abstract work. Just as the early paintings
addressed the physical characteristics of painting and the discrete properties of colour, light and form,
the recent works embody many of the same essential qualities.
The new cycle depicts imagery of the various Neolithic monuments that can be found in the remote
rural areas of Ireland. While living and working in the Irish countryside between 1975 and 1982, Baer
encountered the ancient monoliths and burial sites associated with the Neolithic Hurlstone. In 2011 she
returned to the region on a fieldwork trip to revisit the prehistoric sites that still intrigued her. The resulting
body of work traces her interest in the genealogy of prehistoric periods, mapping human convergences,
and timelines of thought and memory. The compositions are in large part defined by the form, scale and
arrangement of monumental stones.
www.bthumm.de