JETZT edition hansjörg mayer, london
27 Apr - 14 Jun 2012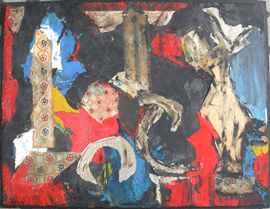 © Dorothy Iannone
Uncertain, 1962
Assemblage, Ölfarbe und Papiere auf Holz /
Assemblage, oil and papers on wood
43 x 55 cm
signiert und datiert / signed and dated
JETZT EDITION HANSJÖRG MAYER, LONDON
27 April - 14 June 2012
works by Mark Boyle, Richard Hamilton, Dorothy Iannone, Arthur Köpcke, John Latham, Tom Phillips, Dieter Roth, André Thomkins, Emmett Williams u.a.
The most recent project of the publisher Hansjörg Mayer (* 1943 in Stuttgart, lives in London) is the webslide
www.hansjorgmayer.com
. There is no introduction on this website, no menu, there are no different levels to click through, but lots of images without any captions. There are only audio guides in different durations and languages. The publisher himself guides the audience through the programme. Using the curser one can scroll horizontally or vertically through hundreds of books, discs, prints and editions that have been published since the start in 1963. The authors, who's books would not have been possible without the Edition Hansjörg Mayer, are Mark Boyle, Richard Hamilton, Dorothy Iannone, John Latham, Tom Phillips, Dieter Roth, André Thompkins and Emmett Williams, to name just a few.
Especially with Dieter Roth, with whom Mayer has collaborated since the mid 60s, he developed a new form of cooperation between publisher and artist. They created publications, which are works of art and groundbreaking artists' books. They also published 25 volumes of Roths "Collected Works", special and de-luxe editions, drawings, films, discs, posters, publisher's catalogues etc. For the Swiss artist André Thomkins Mayer published books of palindromes, the "Lackskins" and other series. He printed the catalogues of graphics by Richard Hamilton, his "Collected Words" and the famous "Polaroid Portraits" as well as texts and artists' books by Emmett Williams, whose "Anthology of Concrete Poetry" is a classic. Other important authors are John Latham and Tom Phillips, whose 5th edition of "The Humument" was published recently. Artists of the younger generation published by Mayer are Gundi Feyrer, Rirkrit Tiravanija and Haegue Yang. Because of Mayer's interest in ethnology he startet to published numerous books for example on Tibet and the book "Peoples of the Golden Triangle". The collection, which is illustrated in the book, is currently shown at the Ethnological Museum in Berlin-Dahlem. The book "The Nagas - Hill Peoples from Northeast India", published recently in an expanded version, is the basis for an exhibition at the Ethnological Museum in Vienna (until 11th of June). Both, art and ethnology, are the main pillars of Mayer's publishing activities.
Starting in the early 60s Mayer studied philosophy in Stuttgart with Max Bense and started to publish Bense and other Concrete Poets. He printed portfolios including works by Eugen Gomringer, Haroldo de Campos, Herman de Vries, Franz Mon, Helmut Heissenbüttel, Frieder Nake and others. Since 1961 he made "typoems", including serendipity design methods. He also designed typographic versions of texts by different authors. Futura was his favourite type face and he used the name for the famous 26 futura broad sheets (Mathias Goeritz, Ian Hamilton Finlay, Robert Filliou and others).
Starting April 27 we show in the exhibition "JETZT" the whole scope of Edition Hansjörg Mayer - all books, special editions and multiples, portfolios, prints, posters, films and music. Moreover we exhibit outstanding originals by the publishing house's authors, amongst others the bar piece by Dieter Roth "Bar. 3" (1979), a piece by the Boyle Family (Mark Boyle and Joan Hills) entitled "Shepherds Bush" (1966), a "Lackskin" by André Thomkins (1982), a sculpture by John Latham, collages by Dorothy Iannone and Emmett Williams and the prints "Nine Studies" (1982) by Richard Hamilton.
The exhibition title stems from a text by Max Bense written in 1962. A filmversion was made by the Filmarbeitsteam (fat) of the University of Stuttgart whose members were Georg Bense, Rainer Wössner and Hansjörg Mayer. We show this film "JETZT" from 1962 as well as two other films: "Der Monolog der Terry Jo", 1963 (an unfinished film by fat, now finished by Georg Bense for our exhibition) and "Terry Jo II - 50 years on. The Uncertainty Principle", 2012, a new film by Hansjörg Mayer.
We also show digitalised super-8-films by Dieter Roth for the first time. He integrated an original super-8 film into the covers of his de-luxe edition of volume 19 of the Collected Works. They show daily scenes, filmed by Roth and Mayer during the 70s, and are precursors of the video edition "Solo Szenen" by Roth from the 90s.