Ron Arad
18 Feb - 16 May 2010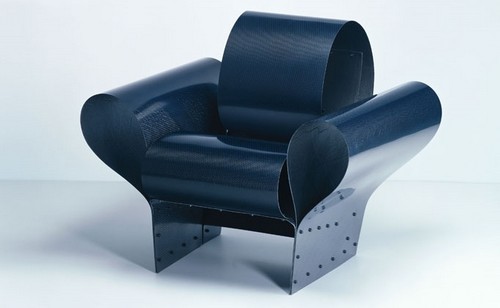 Ron Arad
Bad Tempered Chair, 2002
Manufactured by Vitra GmbH, Germany
Photo courtesy Ron Arad Associates
RON ARAD
"Restless"

First major survey in the UK of the internationally acclaimed design maverick

18 February 2010 - 16 May 2010

Barbican Art Gallery

Tickets: Standard £8 online / £10 full price
Concs £7 online / £8 full price
Members £6 online / £7 full price

Time: Open daily 11am-8pm (except Tue & Wed until 6pm)
Open late every Thu until 10pm
subject to availability

Barbican Art Gallery stages the first major survey in the UK of the internationally acclaimed, London-based design maverick Ron Arad.

Ron Arad: Restless explores three decades of Arad's designs from his early post-punk approach of assembling products from readymade parts to his exclusive and highly polished sculptural furnishings. Featuring a dramatic exhibition design by Ron Arad Associates using the latest LED display technology, Ron Arad: Restless also includes architectural designs and immediately recognisable mass produced pieces. Highlighting the significance of experimentation, process and materials in Arad's work, the exhibition offers a timely insight into the development of objects from initial idea and fabrication to finished design.

Events programme
Inspired by Ron Arad's infectious curiosity and boundless sense of freedom, Barbican Art Gallery will be celebrating his work with a host of talks, workshops and lively, late-night gallery activities. More info coming soon.

Online exclusives coming soon...
Coming soon is a dedicated exhibition microsite for you to immerse yourself in the work and world of Ron Arad. You'll be able to visit for updates, videos, blogs and much, much more.