Funky Lessons
17 Dec 2004 - 26 Feb 2005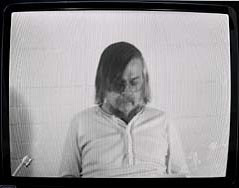 John Baldessari
Baldessari Sings LeWitt, 1972
video on DVD, 13 min.
courtesy Electronic Arts Intermix, New York
Copyright: Jürgen Schulz



BOJAN ŠARCEVIC
Rodney Graham
Asger Jorn: Central Figure
Romantic Conceptualism
Nothing but Pleasure
Candice Breitz: Working Class Hero
Lawrence Weiner
STRICH ZEICHNUNG BILD
Michael Elmgreen & Ingar DragsetThe Welfare Show
Cerith Wyn Evans
FUNKY LESSONS
Jeremy DellerAn injury to one is an injury to all
Marlene Dumas - Marijke van Warmerdam
Elke Krystufek
FREE ENTRANCE
Tal R
William N. Copley

FUNKY LESSONS

John Baldessari, Monica Bonvicini, Andrea Fraser, Martin Gostner, Eva Grubinger, Erik van Lieshout, Marko Lulic, Aleksandra Mir, Adrian Piper, Tino Sehgal, Annika Ström, Barbara Visser, Franz West, curated by Jörg Heiser

A common resentment against conceptual art is that it was too didactic. The exhibition brings together works by artists that tackle the problem head-on: they undermine the authority of educational forms, yet do not simply renounce knowledge and critique. Humor and role play are the disarming weapons used in performance, video, installation, painting, and sculpture. New ways open up beyond the cul-de-sac of a false choice between harmless hermeticism and patronizing gestures.

The title of the exhibition is inspired by Adrian Piper's pivotal piece "Funk Lessons" (1982-1984), a video based on a performance by the artist teaching - a mostly white - audience of students basic and advanced dance routines of funk and soul music. Another classic example is John Baldessari's "Baldessari Sings Lewitt" of 1972: the artist sings, like a lay preacher, the famous stern "Sentences on Conceptual Art" by Sol Lewitt to the melody of famous songs, among them the US anthem. Or Franz West's cross between a pedestal and a lectern "Laocoon's springy head (Lessing study)" of 2002, with a paperback copy of Lessing's "Laocoon; or On the Limits of Painting and Poetry" casually placed inside of it. In the book, Lessing plays off sculpture, which according to him was static, against poetry, which was in motion. West counters the assumption with an amorphous, reddish lump mounted with a rusty steel spring onto the top of the lectern.