Michael Borremans
23 Nov 2012 - 17 Feb 2013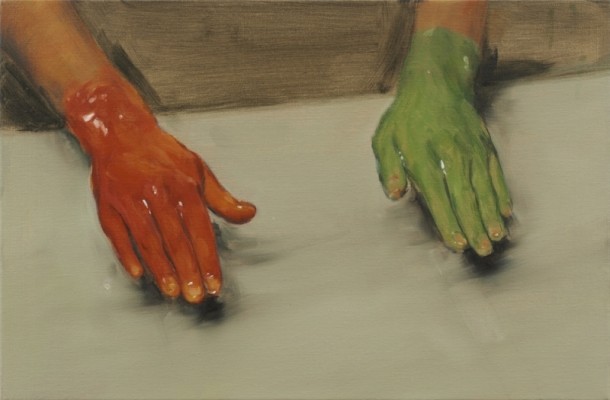 © Michael Borremans
Red Hand, Green Hand, 2010,
40,0 x 60,0 cm, oil on canvas
Courtesy Zeno X Gallery Antwerp, Foto: Peter Cox
MICHAËL BORREMANS
23 November 2012 — 17 February 2013

Michael Borremans (born 1963 Geraardsbergen, lives in Gent, Belgium) The films, paintings, and drawings by Belgian artist Michaël Borremans overwhelm the viewer through the use of deceleration, precision and vortex. His seductive works contain timeless images of inner drive and external force, of the latent pressure involved in being human. Behind a veil of stylistic perfection, the artist simulates common rituals of interpretation and meaning. His intensely atmospheric images are puzzles involving political and psychological patterns of perceiving the world, which oscillate in a camouflaging, fragile way between inexorable realism and nebulous distance.

Collections of his work include The Art Institute of Chicago, Carnegie Museum Pittsburgh, County Museum of Art Los Angeles, Dallas Museum, High Museum Atlanta, Hudson Valley Museum New York, Musée d ́art moderne de la ville de Paris, Museum of Contemporary Art, Los Angeles, Museum of Fine Art, Boston, MOMA New York, Museum of Modern Art San Francisco, National Gallery of Canada, Ottawa; National Museum of Art, Osaka, Öffentliche Kunstsammlung Basel; Rubell Collection, Miami; Stedelijk Museum Ghnet; San Francisco Museum of Art; The Israel Museum, Jerusalem; UCLA Hammer Museum, Los Angeles; Walker Art Center, Minneapolis.