Phyllida Barlow
09 Sep - 21 Nov 2010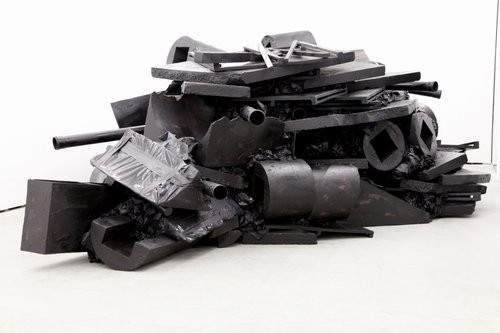 Phyllida Barlow
STREET
untitled: heap 4
Installation View
polystyrene, plywood, paper,
plastic, paint, tape
Courtesy the artist
and Hauser & Wirth
© O.O.
PHYLLIDA BARLOW
"STREET"

September 9, 2010 – November 21, 2010

It's to objects that we must now turn if we want to understand what, day after day, keeps life in the big city together: objects despised under the label "urban setting," yet whose exquisite urbanity holds the key to our life in common. Laminated with their forgotten wisdom we find all the movements, all the durations, all the sturdiness that former forms of the social no longer know how to gather – individuals and society, fields and structures. It seems that the big city is even more populous than Babylon, with a multitude of agitated little beings whose combined action gives height, width, and depth to the entangled networks described until now as flat as a board.

Bruno Latour and Emilie Hermant, Paris: Invisible City

It is tempting to explore Phyllida Barlow's artistic terrain with Bruno Latour and Emilie Hermant's "invisible city" at the back of one's mind, as her work paradigmatically reflects the city's suppressed materiality. For more than forty years, the urban space has provided Barlow with a starting point for her experimental and processual production: the garbage waiting to be picked up for days, deserted roadwork and building sites, flags and signs, ramps, fences, and advertising columns – in short: all those ugly, unloved and overlooked objects that regulate life in the big city and keep it together.

Phyllida Barlow goes beyond a mere ontology of the city, however, by introducing a decidedly political point of view. Her reflection of the city's suppressed materiality also holds a promise of political change. For suppressing and forgetting these objects is not just a result of the city's being, but also the manifesto of a certain political order. The change of perspective or the rediscovery of a potential inherent to the city opens up new views which are indispensible for the genesis of a political subject.

One of her strategies proceeds along the lines of deconstructing and demystifying the monument and the monumental. Her fluid definition of sculpture as rejects, which finds a perfect form even with the poorest means, unfolds as a counterconcept to traditional sculpture as a territory of permanence. The materials Barlow relies on for subverting the monumental come from DIY stores and include rubber, tarpaulins, plastic wraps, asphalt, concrete, paint, textile remnants, wooden palettes, cement, Styrofoam, plaster, cardboard, and cables.

Phyllida Barlow's practice as an artist is characterized by a free-flowing process of continuous production and deconstruction. By separating and relating things to each other, she creates a subtle network of references between materials and spaces. As the deterritorialized material is put in circulation again and reterritorialized in other spaces, objects and material enter into new relationships and dialogues with other spaces and materials. This dynamic additive and subtractive process of separating and linking things blurs the boundaries between the categories, between inside and outside and finds its strongest reference in Schwitters's Merzbau.

The exhibition Street in the BAWAG Contemporary comprises seven recent works that directly respond to the gallery's specific architecture. The presentation brings the street as an ensemble merging different times and combining a variety of materials, as a result of innumerable influences and activities into the gallery for a certain period. Being already part of the urban space because of its architecture (a lot of glass and concrete, its two entrances, and its passage), the gallery thus incorporates even more of the city. The history of the objects combines with the history of the place spanning from tile showroom to X-ray lab to art space. The glazed tile roof is just one of the material remnants from another time, another life of the city. The windowless basement, a kind of cave, is transformed into a place of remembrance, of the unconscious and suppressed.

Christine Kintisch

Biography

Phyllida Barlow, a British institution in her own right – the first female professor of the Slade School of Fine Arts and visiting lecturer of the Royal College of Art – exhibits her familiar rough and ready work.

Phyllida Barlow (Born 1944, Newcastle upon Tyne) has been teaching since the 1960's and has proved an influential presence in a number of British art colleges and her former students include Rachel Whiteread, Steven Pippin, Douglas Gordon, Spartacus Chetwynd, Bill Woodrow, Angela De la Cruz and Eva Rothschild.

In recent years her work has achieved a new visibility with the publication of the monograph Objects For ... And Other Things (Black Dog, 2005) and a number of solo exhibitions and commissions across the United Kingdom, including STINT, Mead Gallery, Warwick (2008); New Sculpture: In the Gallery and Grounds, New Art Centre, Roche Court, Sailisbury (2007); Scape, Spacex, Exeter (2005) and Peninsula, Baltic, Gateshead (2004).
The artist has an ever increasingly presence internationally which her inclusion in a number of group exhibitions including Kunstmuseum Basel and Bergen Kunsthall (both 2010 and curated by Silberkuppe, Berlin) and a forthcoming solo exhibition at Kunstverein Nürnberg (2011). Bluff coincides with the artist's two-person show with Nairy Baghramain at The Serpentine Gallery (8 May – 13 June 2010).