Benoît Maire
23 Apr - 10 Jul 2016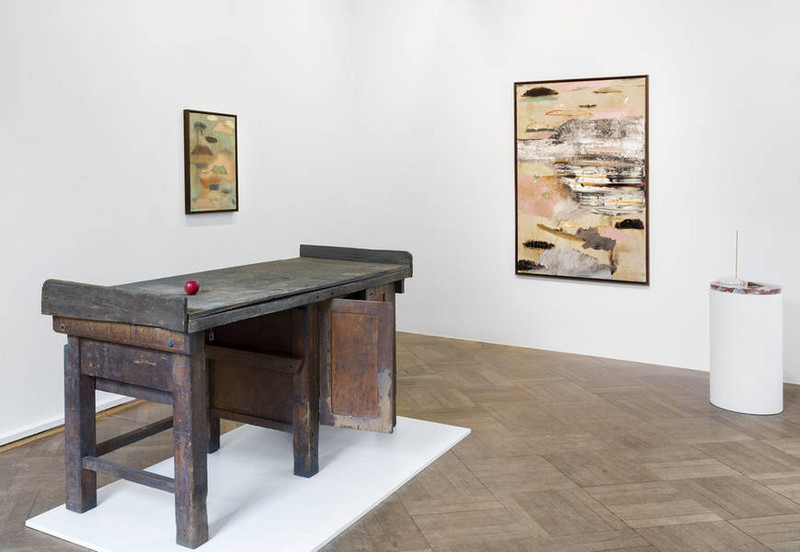 © Benoît Maire
George slays the Dragon, 2016, Ausstellungsansicht, Courtesy der Künstler und CroyNielsen, VG Bild-Kunst, Bonn 2016, Foto: Philipp Ottendörfer
BENOÎT MAIRE
George Slays the Dragon
23 April – 10 July 2016

Curator: Thomas Thiel

Benoît Maire develops his works in the spaces between art, philosophy, display and thought. In his paintings, sculptures, videos and installative arrangements, he seeks an experimental and practical pathway into fundamental theoretical propositions of aesthetics. With Maire, ideas find themselves translated in the form of pictures and objects. In his latest works, the artist devotes attention to, among other things, the art-historical motif of clouds, which reflects in the medium of painting itself and in his own artistic developments. In this process, he is interested in, for instance, a »groundlessness of expression in expression« capable of being experienced. What appear to be unimportant residues and rubbish gain a new currency as a mark of his actual work and as traces of the decisions made in a process of artistic creativity. Differing elements are embedded in installations, assume a deliberate relationship with one another and become equal parts of his artistic work as a whole. Benoît Maire is developing new paintings and sculptures for his exhibition at the Bielefelder Kunstverein and is including transformed site-specific objects into the presentation of his exhibition.

Benoît Maire, born in 1978 in Pessac (FR), lives and works in Paris. In the recent years solo exhibitions were shown, among others, by the gallery Thomas Bernard in Paris (FR), by Kiria Koula in San Francisco (USA) (both 2015), at Western Front in Vancouver (CAN, 2014) as well as at the Vleeshal in Middelburg (NL, 2011). Furthermore he was represented by works in group exhibitions, among others, at the Lille-Métropole Musée d'Art Moderne (FR), at the MAMCO in Geneva (CH), at the Palais de Tokyo in Paris (F) (all 2015) as well as at the MUSEION in Bolzano (IT) (2014).

To mark the exhibition, a 36-page brochure will be published (German/English).