Gilda Mantilla & Raimond Chaves
Invited by Tatiana Cuevas
28 Sep - 04 Nov 2012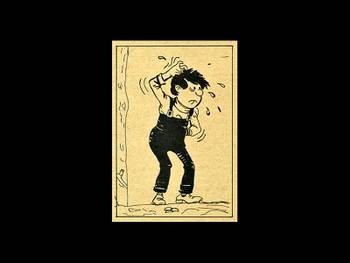 Gilda Mantilla & Raimond Chaves
»UN AFÁN INCÓMODO (AN UNCOMFORTABLE EAGERNESS)«, 2011
Videostill, Courtesy die Künstler, Projecte SD, Barcelona und Revolver Galería, Lima, produziert mit Unterstützung der Fundación Botín, Santander, Spanien
UN AFÁN INCÓMODO (AN UNCOMFORTABLE EAGERNESS) 2011

During a period of nine months between December 2010 and August 2011, Gilda Mantilla and Raimond Chaves made periodical visits to the city of Iquitos, in the northeast of Peru, to compile images, texts, and sounds from magazines, newspapers, photographs, musical scores, and films produced in the region. Their research was concentrated at the Library of the Center for Theological Studies of the Amazon –founded by a progressive Augustinian order that since the late 1960s broke with the traditional scheme of evangelization and colonialism– and the Library of the Research Institute of the Peruvian Amazon –depending on the local government and with a more technical approach in their holdings.

The resulting work, as in previous projects (Dibujando América, 2005; Dibujando B..., 2006) is concerned with the way in which, as strangers, they can produce a reading of the local context. They became intrigued by a library that holds a history of images from a town that can only be accessed by air or water, and which in many ways finds its central library in the ancestral knowledge available in the forest surrounding it. They were drawn by a region that in recent times has been the center of vigorous debates regarding Amazonian identity, and a city where fundamental contemporary cultural and artistic movements have emerged.

Guided by a random logic based more on intuition than a structured methodology, Mantilla and Chaves opted to browse their sources looking for private narratives and anecdotes: the forgotten images on the side of official history from which they could establish a relationship between both. Being aware they were confronting the type of place that finds permanence through its images more than its day-to-day living, they selected fragments from its past and present that help model the illusion of a timeless continuity. The main motor for the project, in a way, was the uncomfortable eagerness that conducts the attempt to produce a representational sequence of a place, even if we know it is condemned to partiality and alienation.

Text: Tatiana Cuevas

Gilda Mantilla (*1967 in Los Angeles, USA) und Raimond Chaves (*1963 in Bogota, Colombia) live and work in Lima, Peru. The artists work as a collective already since 2001. Various institutions and galleries, such as ProjecteSD, Barcelona (Spain), Revolver Galería, Lima (Peru) and Patio Herreriano, Museo de Arte Contemporáneo Español, Valladolid (Spain) dedicated solo exhibitions to the artists. Additionally their work has already been shown in multiple international group shows, amongst others at the Museo de Arte del Banco de la República, Bogota (Colombia), the Centro Andaluz de Arte Contemporáneo, Sevilla (Spain) and at Zürich Kunsthalle at Museum Bärengasse (Schweiz). Over a period of several years, they created numerous drawings and videos on various joint travels through South America. The outcome is a visual reflection on a continent, its diverse developments and many tensions.