4TH MERCOSUL BIENNIAL 2003
04 Oct - 07 Dec 2003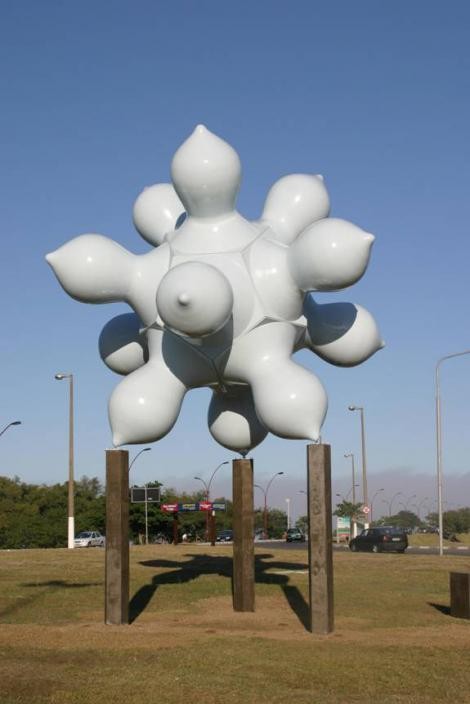 4a Bienal do Mercosul - Esplanada Hely Lopes Meireles - Porto Alegre
Saint Clair Cemin
SuperCuia, 2003
Aço, resina sintética
4TH MERCOSUL BIENNIAL 2003
4 October - 7 December 2003

General curator: Nelson Aguilar
Associate curator: Franklin Espath Pedroso

Artists:
Andrés Durán, Antonio Berni, Ari Marcopoulos, Artur Barrio, Ary Perez, Augusto C. Ferrari, Betsabeé Romero, Carlo Spatuzza, Carlos Bittar, Carlos Capelan, Carolina Ruff, Cecilia Lampo, Claudia Casarino, Claudia Del Fierro, Claudia Fernández, Colectivo Tercerunquinto, Diego Levy, Enrique Greimer, Enrique Jêzik, Ernesto Vila, Fabián Trigo, Fernando Llanos, Francis Alÿs, Frank Thiel, Gabriela Zuccolillo, Gastón Ugalde, Gyula Kosice, Ivens Machado, Janaina Tschäpe, Jesús Ruiz Nestosa, Joaquin Sánchez, Jorge Macchi, Jorge Sáenz, José Clemente Orozco, José Damasceno, Juan Angel Urruzola, Juan Britos, Juan Carlos Meza, Juan Céspedes, Laércio Redondo, Laura Lima, Lia Menna Barreto, Livia Marín, Lívio Abramo, Los Carpinteros, Luis Molina-pantín, Lygia Pape, Marcela Moraga, Marco Maggi, María Fernanda Cardoso, María Freire, Mario Z, Martin Chambi, Maurício Dias, Michael Wesely, Natalia Patiño, Pablo Langlois, Pablo Uribe, Patricia Bentancur, Pedro Barrail, Pierre Verger, Rachel Berwick, Res, Richard Moszka, Roberto Matta, Rosana Paulino, Saint Clair Cemin, Sergio Avello, Solange Pessoa, Tato Taborda, Teresa Margolles, Víctor Hugo Bravo, Virginia Errázuriz, Walter Riedweg, Yenniferth Becerra

The 4th Mercosul Biennial included Argentina, Bolivia, Brazil, Chile, Paraguay and Uruguay, with Mexico as guest country. This edition also included a transnational exhibition with artists from several other countries, such as Germany, Cuba and United States. A total of 84 artists from 16 countries took part in the 4th Biennial, which was the edition with the greatest participation of non-Latin American artists.

Seeking to promote a questioning of the specificities of Latin American art as an alternative approach to that from the hegemonic centres, the 4th edition constructed relations of affinity between the archaeological and the contemporary, highlighting the links between the origins and present conditions of Latin American cultures. This edition also promoted insertion of the Mercosul Biennial project into the agenda of political discussion in Mercosul, confirming it as the biggest Latin American visual art event and consolidating Porto Alegre as an international centre for cultural and civic encounters and dissemination.

For this reason the opening event was attended for the first time by the President of the Republic, together with presidents and representatives from other participating countries, making it into a major national and international occasion.

The contemporary and historical sections of the 4th Biennial involved a total of 17 exhibitions. Taking Contemporary Archaeology as an underlying theme, the curators organised seven iconic exhibitions, consisting of a celebrated artist from each country to accompany the national representations: Antonio Berni, from Argentina, Pierre Verger, from France, with photos of Bolivian peoples, Roberto Matta, from Chile, Livio Abramo, from Paraguay, María Freire, from Uruguay, and José Clemente Orozco, from Mexico. Three curated exhibitions completed this edition: The Delirium of Chimborazo, The Archaeology of the High Country and Low Country and Genetic Archaeology. The artist of honour was the Brazilian artist, Saint Clair Cemin.

The historical exhibition, The Archaeology of the High Country and Low Country, showed pre-Columbian art and sought to bring in elements that questioned the artificial division between the High Country and Low Country, which has been a feature of part of South American archaeology since the end of the Second World War. It included more than 120 works made by some of the most ancient peoples on the American continent, representing vanished cultures like the Chavin, Moche and Nazca, from the area that is now Peru, or the Tiahuanaco culture of Bolivia. The transversal exhibition, The Delirium of Chimborazo, brought together artists from Latin America, the United States and Europe, who made work inspired by Simón Bolívar's route, based on his poem, Mi Delírio sobre el Chimborazo. The national representations from Argentina, Brazil, Chile, Mexico and Uruguay were shown in the Quayside Warehouses, and those of Bolivia and Paraguay were shown in the Usina do Gasômetro. This was the first Mercosul Biennial in which the works of the participating countries were shown according to geographical boundaries.

The 4th Mercosul Biennial made great efforts towards integration with the community, with emphasis on the preparation of mediators and supervisors for broad diffusion of art. With free admission, the 4th Mercosul also achieved record attendance figures with more than one million visitors to its various exhibition spaces.

As in the other editions, part of the Biennial exhibitions toured to other cities. The Foundation organised tours to Rio de Janeiro and São Paulo states in pursuit of a more effective cultural integration policy.

Source: "A Concise History of the Mercosul Biennial"