Analog
30 Nov 2013 - 01 Feb 2014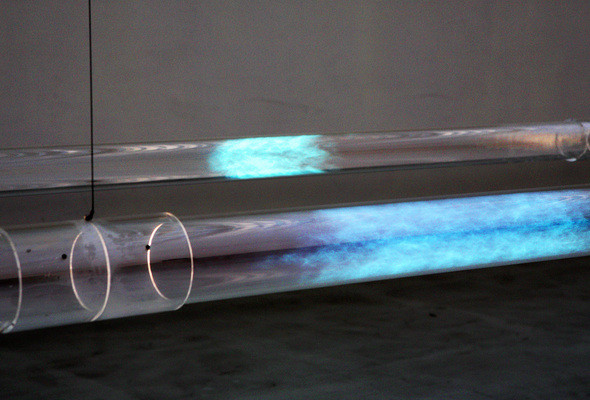 Carsten Nicolai
334m/s, 2007
Perspex tubes, gas, igniting mechanism
Room installation/dimensions variable
Image Courtesy of Galerie EIGEN + ART Leipzig/Berlin and Pace Gallery
ANALOG
30 November 2013 – 1 February 2014

Blain|Southern is delighted to present ANALOG, a group exhibition in which eight artists investigate the experience of sound in art, through a range of kinetic works and augmented environments.

ANALOG explores the various ways that noises around us affect our auditory experience of the world, whilst also examining the junction where music becomes noise. Each work in the exhibition questions our physical and perceptual relationship with these sounds, ranging from the booming explosions caused by chemical reactions to the reverberations of ambient noise and the sonic augmentation of spatial acoustics. Visitors are invited to experience interactive installations – triggering the echo of their own voices through recording equipment, or becoming immersed in a cacophony of fragmented arias.

Featuring works by Cyril de Commarque, Jannis Kounellis, Bruce Nauman, Max Neuhaus, Carsten Nicolai, Ignacio Uriarte, Lawrence Weiner, and Gilberto Zorio, ANALOG draws a direct correlation between noises and their origins, calling attention to the nature of process, and thus creating a dialogue between the aural, the visual and the kinetic. In this manner, each work in the exhibition transcends its acoustic dimensions and becomes experiential on a variety of levels through the employment of dynamic activities, light production, sensory manipulation and even mimetic engulfment.

The exhibition challenges the viewer to perceive the noises of daily life with greater reverence, triggering both a re-assessment of our aural experience of the world, and an understanding of the nature of sound as an integral and artistic aspect of our existence.