Cumulus Studios
03 Jul - 28 Aug 2010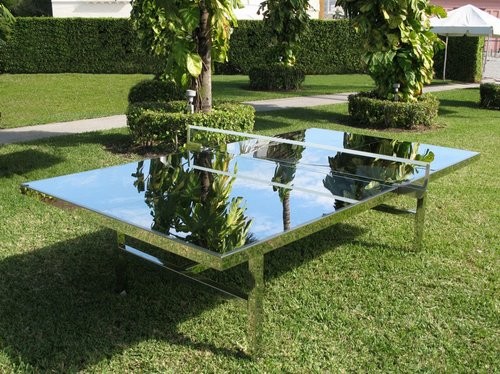 © Rirkrit Tiravanija
Untitled (The future will be chrome), 2009
Ping pong table
Mirror polished stainless steel and glass net
30 x 60 x 108 inches
CUMULUS STUDIOS

July 3 – August 28, 2010
Opening Reception: Saturday, July 3, 2010

Cumulus Studios is finally flying out west and is invading the parking lot and the garden of the prestigious Blum and Poe Gallery in Culver City.

On July third, we will show a selection of our sculptural and functional pieces produced in the last 18 months and introduce a new line, the b-line a series of benches created by participating artists. You will be able to play a game of ping pong on the most elegant table tennis ever produced, relax by a Rob Pruitt fountain or simply have a beer and watch the birds flying in and out of Andrew Miller's birdhouse.

Summer is about taking it easy and Cumulus will provide just that.

Nathalie Karg founded Cumulus Studios in 2008. Cumulus gives established and emerging contemporary artists the opportunity to create functional objects for the outdoors. The collection encompasses furniture, games, sport and garden utility. The artists have the freedom to execute a personal fantasy with its only limitation being functionality and weather resistance; they all embraced the invitation with great enthusiasm and wit.

Cumulus Studios provides art lovers the solution to a more whimsical garden.

Artists in the exhibition include: Georg Baselitz, Tom Burr, Jim Drain, Charles Long, Jason Meadows, Andrew Miller, Jan Mancuska, Nathan Mabry, Rob Pruitt, Joel Shapiro, Rirkrit Tiravanija.