Tatzu Nishi
15 Aug - 27 Oct 2007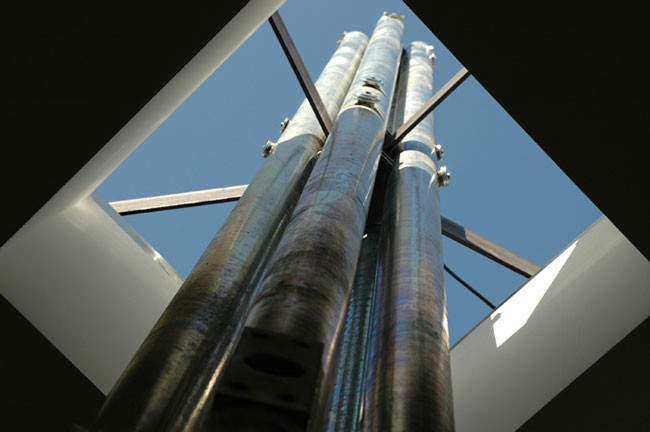 © Tatzu Nishi
Use Your Head, 2007
five galvanized steel street lights, steel armature
300 x 160 inches
installation view, gallery 2
TATZU NISHI

September 15 – October 27, 2007
Opening reception: September 15, 6 – 8 pm

Blum & Poe is pleased to announce the first US solo exhibition of Tatzu Nishi.
Tatzu Nishi's work revolves around taking common spaces and objects and reinterpreting them. His work conceptually displaces elements of the public realm, such as park sculptures, flags outside of government centers, ornaments atop church steeples, by building private settings around them, which are frequently accessible by stairs and ladders. These places, in turn, challenge our perceptions and force us to see acutely what is usually at a distance or out of view. In a new context, these items that we encounter everyday, but never scrutinize, take on a different connotation.
For this exhibition, Nishi has created two major works. The first is an industrial chandelier made of five twenty-five foot long streetlights that are grouped together pentagonally, inverted, and illuminate the interior of the gallery. The poles continue up through the skylight and extend fifteen feet above the building, easily visible from the street. Nishi will also present four wall clocks of varying sizes, the largest being fourteen feet in diameter, using industrial clock movements designed for the type of tower clock normally found in malls and town squares. Fully functional, their hands keep real time, however their faces are painted directly on the wall in Nishi's quintessential expressive style. Nishi's personalization of the impersonal visage of time bolsters the aspirations of his numerous other works. The streetlights and the clocks lead us to divorce our ordinary definitions from the objects themselves, and instead find the meaning in our experience. Playing with size and site, Nishi captures something we often see and recontextuallizes it, giving these mundane shapes a sharper and more challenging role.
Nishi was born in Nagoya, Japan in 1960. Since 1987, he has lived and worked in Cologne, Germany. Nishi's recent exhibitions include MAM Project 006: Nishi Tatzu, Mori Art Museum, Tokyo; Chéri in the Sky, Maison Hermes 8F Forum, Tokyo; Ecstasy: In & About Altered States, Museum of Contemporary Art, Los Angeles; Bienal Internacional de Arte Contemporaneo de Sevilla, Sevilla, Spain in 2004; and the Liverpool Biennial in 2002. He has presented several public projects, including Gott erscheint am Kopfkissen and Speak of the devil, "Cabinet 3" with Stedeljik Museum voor Actuele Kunst, Ghent, Belgium; Cafe Moon Rider, with Dublin City Council, Dublin, Ireland; and Engel, with Littmann Kulturprojekt, Basel, Switzerland.