Patrick Hill
13 Jan - 23 Feb 2011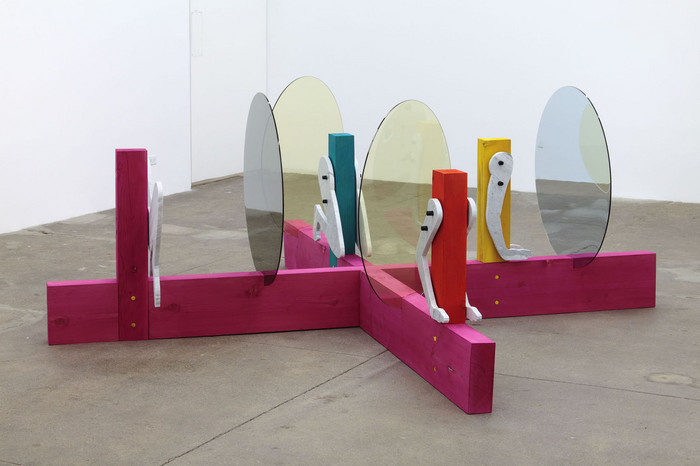 © Patrick Hill
Clusterfuck, 2011
Wood, dye, one way mirror, glass, white Carrara Marble 46 x 120 x 120 inches
PATRICK HILL
Clumsy Angels
13 January - 23 February, 2011

Bortolami is pleased to announce our second solo exhibition with Patrick Hill.

Working primarily in sculpture, Hill has implemented large wood beams as structural footing for cement, glass, metal, marble, fabric, and dye. For the first time, Hill introduces a figurative aspect into his work, with sculptures that reference fragmented bodies and detached limbs. Using white Carrera marble for the limbs with wooden support structures as skeletons, these new sculptures rouse Hill's continuing investigation of underlying, if not foreboding, tensions between the precariously balanced and the stable form.

The use of marble in depictions of poised ballerinas, along-side posed sex workers, conjures classical sculptures of the female body, which invoke the sacred, the beautiful and an ideal form. Hill flattens cultural notions of high and low through juxtaposition, the interchangeability of the ballerinas and strippers as figurative, and figuration of, cultural positions. Circles of clear or golden glass in combination with one-way mirrors provide a kind of visual ingression evoking the viewer's position as voyeur and the figure as the unattainable object of desire. As windows, lenses, embellished orifices, the fragile glass halos indiscriminately crown the figures.

Patrick Hill was born in Michigan and currently lives and works in Los Angeles. He has exhibited in; Leopards in the Temple, Sculpture Center, New York; Whitney Biennial, New York; Abstract America: New Painting and Sculpture from the U.S., Saatchi Gallery, London; Symmetry, The MAK Center at the Schindler House, LA, CA and Ishtar, Midway Contemporary Art, Minneapolis. He has had solo exhibitions with David Kordansky in Los Angeles, The Approach in London and Shane Campbell Gallery in Chicago.