Dorothy Iannone
08 Mar - 05 May 2013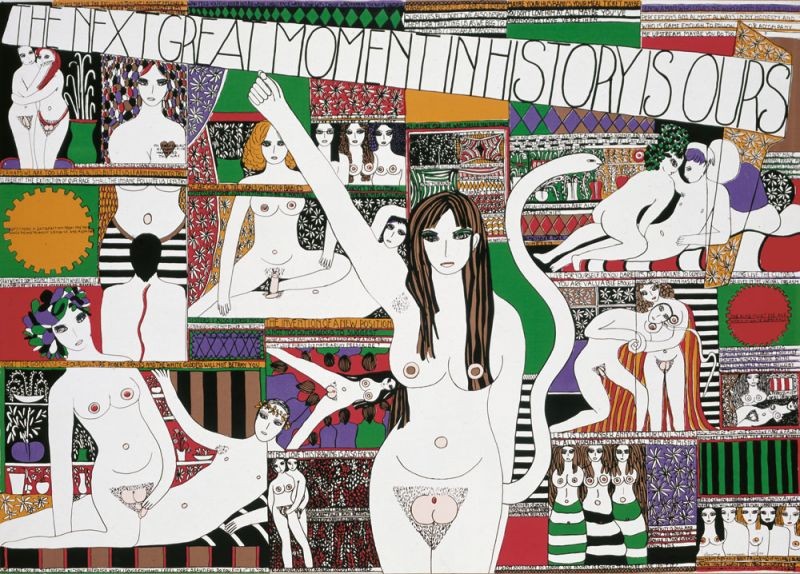 Dorothy Iannone
The Next Great Moment in History is Ours, 1970
Photo: all rights reserved, Courtesy Air de Paris, Paris © the artist
DOROTHY IANNONE
Innocent and Aware
8 March - 5 May 2013

Dorothy Iannone's vibrant and revealing body of work expresses her feelings and experiences through painting, drawing, poetry and song.

Iannone's portrayals of male and female sexuality celebrate the joy of her most intimate relationships while subverting traditional gender stereotypes of dominance and control. Through graphic paintings, sculptures and video boxes her works depict partly-clothed and naked figures on bright psychedelic backgrounds of flora, mandalas and biomorphic patterns. Recalling classical Indian erotic art, Egyptian frescoes and Byzantine mosaics, Iannone's intricate work communicates a personal narrative, passionate love affairs and lifetime pursuit of 'ecstatic unity' through transcendence and spirituality.

A self-taught artist, Iannone started painting in 1959 and in 1961 took the US government to court after customs officials confiscated her copy of Henry Miller's well-known novel 'Tropic of Cancer' at the airport. Her actions led to the government lifting the ban on all his novels in the US. After a transformative meeting with Swiss artist Dieter Roth on a trip to Iceland in 1967, described by Iannone in An Icelandic Saga, an emotionally charged series of words and pictures, she left America and travelled to Europe where she has lived and worked ever since.

Iannone has devoted her life to unconditional love. For more than half a century, her work has illuminated a journey of ever-increasing sexual, political and spiritual awareness and a life perpetually in search of union - with the beloved, the viewer, listeners and the world.