Nathalie Djurberg with music by Hans Berg
07 Oct 2011 - 08 Jan 2012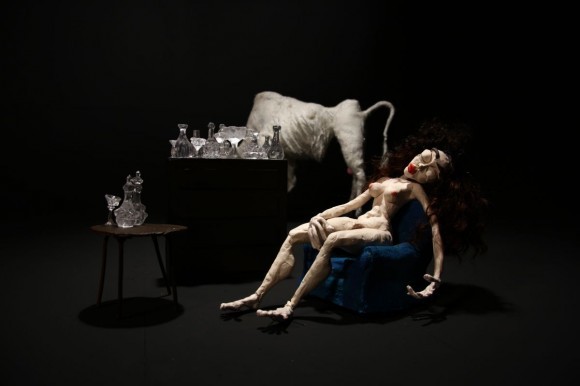 Nathalie Djurberg with music by Hans Berg:
A World of Glass (film still) 2011
Courtesy of the artists, Zach Feuer Gallery, New York and Galleria Giò Marconi, Milan Collection of Hadley Martin Fisher © Nathalie Djurberg
NATHALIE DJURBERG WITH MUSIC BY HANS BERG
A World of Glass
7 October, 2011 - 8 January, 2012

The animated films Djurberg is best known for are made with a technique referred to as 'claymation'. Though at first the work appears to be playfully naïve, the scenarios enacted are often disturbing, uncovering taboos or difficult aspects of the human condition such as vulnerability, desire and suffering. A World of Glass consists of four new synchronised films with a soundtrack produced by Djurberg's collaborator Hans Berg, presented amongst an immersive installation of glass-like objects. Another new installation will flood the central space with luminous colour, and a series of earlier animations will be shown in the Reading Room.

Djurberg's characters are painstakingly handcrafted and over recent years this crude materiality has expanded into immersive installations. At the Venice Biennale two years ago, Djurberg embedded her projections amongst a sprawling jungle of life-sized sculptures. This aspect of her practice is continued in A World of Glass, which will fill the galleries with luminous objects, made from a translucent man-made material that shares the apparent fragility and elegance of glass.

Each of the four films in A World of Glass addresses a shared theme of sexual discovery, exploring the untamed forces that drive desire and the fragile, precarious nature of this rite-of-passage. The dark and foreboding atmosphere of the installation links Djurberg's work to the subversive imagination of Goya. Resembling folk- or fairy- tales, Djurberg's stories do not carry moral judgement but rather place the viewer in a position where they can make their own assessment of the issues that are raised.
Some works in this exhibition touch on issues of a sensitive nature that may not be suitable for children.