Christoph Ruckhäberle
05 - 26 Apr 2014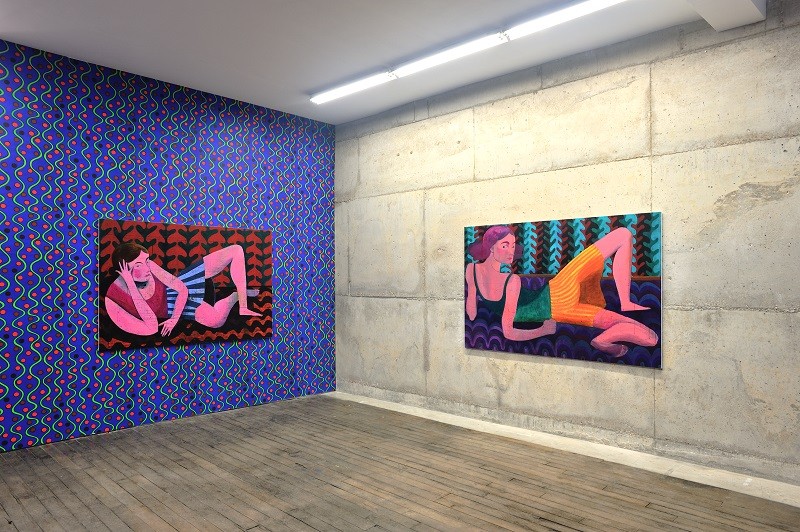 A Moveable Feast Part VIII – Christoph Ruckhäberle
Installation view
5 – 26 April 2014
Campoli Presti, Paris
CHRISTOPH RUCKHÄBERLE
A Moveable Feast Part VIII
5 – 26 April 2014

Campoli Presti is pleased to announce the eighth part of A Moveable Feast - a year-long exhibition marking the gallery's tenth anniversary - with a solo presentation by Christoph Ruckhäberle. The exhibition comprises four new paintings and a wallpaper installation.

This group of paintings presented in the exhibition feature indifferent women in languid poses. Although inspired by the classical figure of the muse portrayed indoors, the women are organised in surrealist angles. Placed in different interior settings, they evoke the artifice of theatrical backdrops, a motif that is extended in the wallpaper installation.

Ruckhäberle's paintings are formed from a rich vocabulary of playful geometry and vivid colours that result in disconnected perspectives and rhythmic backgrounds. The successive superposition of elements, selected and rearranged in various configurations gives a quality in Ruckhäberle's work that he describes as "a construction of reality, not a representation or impression".

The use of independent colour fields and their organisation into background patterns reveal Ruckhäberle 's affinity with the linocut and other printmaking techniques that he develops in his graphic company Lubok Verlag, founded by the artist in 2007.

Christoph Ruckhäberle lives and works in Leipzig. His work is part of the permanent collections of MoMA, New York and the Migros Museum, Zurich. Ruckhäberle studied between 1991 and 1992 at the California Institute of Arts Valencia, and graduated in his Master studies in Leipzig under Prof. Arno Rink. Wels Stadtgalerie, Austria is currently hosting a solo exhibition of his work. His work was recently exhibited at the Museo Nacional de la Estampa, Mexico City (2012) traveling to Centro Cultural Clavijero, Michoacan (2013) as part of the group exhibition LUBOK. Grafica contemporánea y libros de artistas de Leipzig. Past exhibitions include Christoph Ruckhäberle, Migros Museum, Zurich (2009), Manifesta 7 (2008), Life After Death, Frye Art Museum, Seattle (2007) and Triumph of Painting, Saatchi Gallery, London (2006).