John Miller
04 - 18 Oct 2014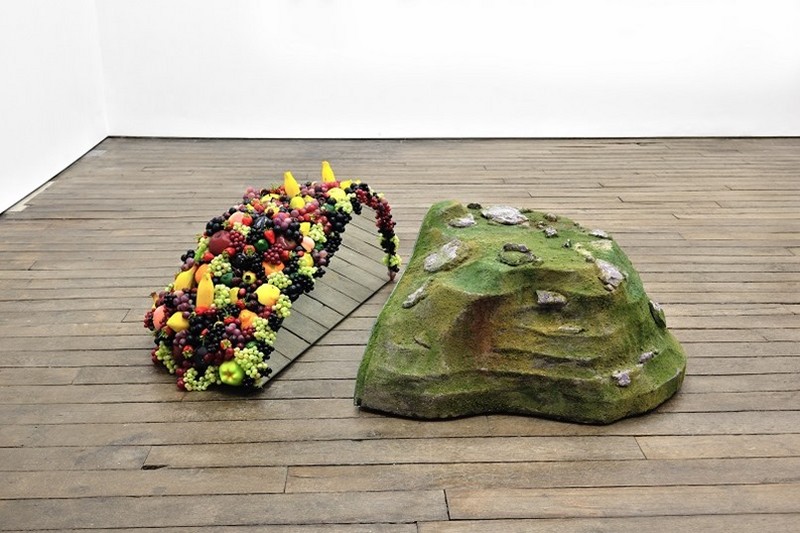 © John Miller
Fallacy, 2006
Plastic fruits, mirrors, plywood, plaster, modelling trees, grass and sand
51 x 92 x 122 cm / 20 x 36 x 48 inches
JOHN MILLER
A Moveable Feast – Part XIII
4 – 18 October 2014

Campoli Presti is pleased to announce the 13th part of its ongoing exhibition A Moveable Feast with a presentation of works by John Miller.

Miller's 'pedestrian' paintings build upon a series of recent works that explored the interpenetration of public and private space. His recent Reality TV series of paintings portrayed different crying characters, unveiling an overdetermined behavior that purported, at least superficially, to be spontaneous. After this series, Miller decided to focus on people in public space, namely pedestrians on street corners, and started to photograph them as part of his midday photo series - a long-term and at first glance banal-seeming conceptual photography project he has been working on since 1994.

If in reality TV subjects inevitably perform for the camera, here most individuals are unaware of it and the character of performance concerns much more the presentation of self in public space. This has been informed by a certain facade-like aspect that artists such as Gilbert & George or Pistoletto have also addressed in their work. Some of the elements that constitute this presentation can be intentional, through choice of clothing, posture, etc., but much of it defaults to unconscious, ideological factors.

In these social portraits the attention is redirected on the plural and on a kind of heterogeneity that evokes that of Bataille's, even if the group he portrays is not constituted as a social class but is rather a formless entity. There is a certain energy and affectivity concentrated in them, an interaction that exceeds the aims of production and utility.

The transition from photography to painting accounts for the fracture between spontaneity and labor. The works depict the fugitive, the ephemeral, the contingent (an attitude that points out Baudelaire's vision of Constantin Guys as a proto-pop manifesto) rendering otherwise insignificant details that produce the effect of realism. Their shape as cut out panels and their installation as a tableau reinforce this aspect.

The human desires that can be submerged within the banal are also the theme of Miller's sculptures. The pieces on view belong to a group of works that use the cornucopia - made exclusively of plastic fruit - as a figure of speech. Inspired by Giorgio de Chirico's late still lifes, Miller conflated foreground and middleground space so the image could be read either as a landscape behind an ordinary fruit arrangement or as giant fruit set within a landscape. Yayoi Kusama's use of repetitive elements have also informed his understanding of the cornucopia as a kind of obliteration. The aggregation of fruit is ostensibly generous and grotesque making its negative counterpart visible at the same time.

Miller is the recipient of the 2011 Wolfgang Hahn Prize, which coincided with an exhibition at Museum Ludwig, Cologne. In 2009, the Kunsthalle Zurich held a retrospective exhibition of his work that was accompanied by a catalogue. Miller has had solo shows at Metro Pictures (2012); Musée d'art moderne et contemporain, Geneva (2004); Magasin, Grenoble (1999); and Kunstverein Hamburg. He has participated in major group exhibitions at Swiss Institute of Contemporary Art (2014), Hayward Gallery, London (2014), The New Museum of Contemporaray Art (2013), Palais de Tokyo (2012), CAPC, Bordeaux (2010/11); Museo Nacional Centro de Arte Reina Sofia, Madrid (2010); and MoMA PS1, New York (2006). His work was included in the 2010 Gwanju Biennale in South Korea and in the 1991 Whitney Biennal in New York.