Nora Schultz
23 Nov - 21 Dec 2013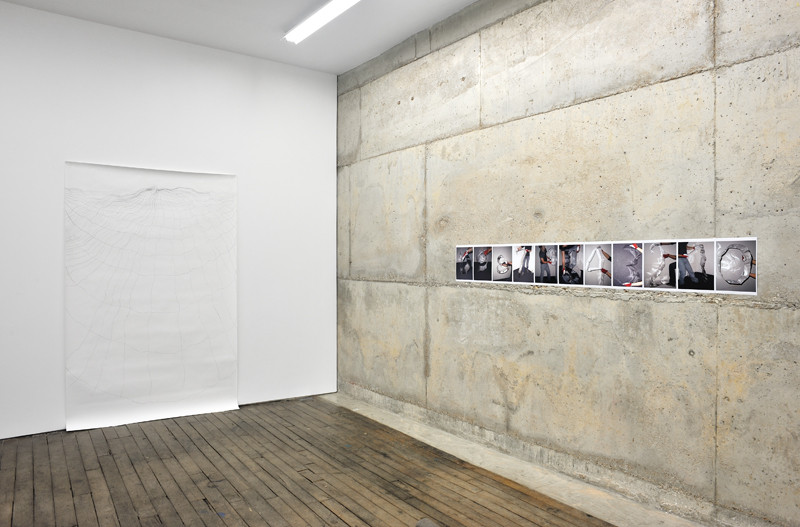 Nora Schultz
A Moveable Feast - Part IV
Installation view
23 November - 21 December 2013
Campoli Presti, Paris
NORA SCHULTZ
A Moveable Feast – Part IV
23 November – 21 December 2013

The fourth edition of A Moveable Feast is dedicated to the work of Nora Schultz.

Drawn by the cyclical character of A Moveable Feast and the artist's recurring references to time throughout her practice, the exhibition attempts to plot a chronological line between the works while exposing their discontinuous nature.

The first solo exhibition of Nora Schultz, Zero Ruler, was held at the gallery in 2007 shortly after her inclusion in the group exhibition For the People of Paris. In the same year, in a performance with New York–based artist Ei Arakawa (b. 1977), Schultz documented with series of photographs the sculpting of a thin, flexible length of stainless steel into forms of successive numbers comprising a countdown from ten to zero. Countdown Performance, (2007/2012) shows the steel becoming increasingly contorted as each new number embodies echoes of its previous incarnation evolving into the zero, suggesting an impossible return to neutrality. It was exhibited recently at the Irish Museum of Modern Art and at MoMA in 2012 in the exhibition Ecstatic Alphabets/Heaps of Language, where the original performance was enacted. "Countdowns are ambivalent, " states Schultz, "they can be threatening... but they can also be the numbers for increasing promises of pleasure".

In Perspective Drawings, (2007) Schultz utilised the contorted length of steel first used in Countdown Performance as a drawing instrument. This work encompasses the artist's engagement with the relationships between writing, performance and the medium of sculpture – the core constituent of her practice.

Nature Piece, (2013) - produced for her recent solo exhibition Rug Import at Campoli Presti, London this year – comprises commonplace office carpets that function as a support for manual printing processes. Embedded into the carpets, imprints left from paint-drenched cuts of carpet and a foam mat are marks made by materials that function both as printing utensils and sculptural components of the installation as a whole. Incorporating advertising panels for building projects found at construction sites depicting artificial renderings of the natural world, Nature Piece is a recent example of Schultz' engagement with the acts of translation and displacement that occur when external realities and cultural motifs are appropriated and rearranged.

Nora Schultz lives and works in Berlin. The Renaissance Society will host a solo exhibition of her work in January. She recently had solo exhibitions at Portikus, Frankfurt (2012), Bloomberg Space, London (2011), Fondazione Giuliani, Rome (2010) and Koelnischer Kunstverein, Cologne (2009). Her work has been included in Call of the Mall: Art in Hoog Catharijne & Utrecht Central Station; Version Control at Arnolfini, Bristol and I knOw yoU at Irish Museum of Modern Art, Dublin this year. Past group exhibitions include Ecstatic Alphabets/Heaps of Language at MoMA, New York (2012), That's The Way We Do It at Kunsthaus Bregenz (2011), Non-Solo Show, Non-Group Show at Kunsthalle Zürich (2009), Collatéral at Confort Moderne, Poitiers (2009) and On Interchange – Zwischenspiele einer Sammlung at Museum Kurhaus Kleve, Germany (2008).