Stephen Prina
As He Remembered It
24 Nov 2017 - 03 Feb 2018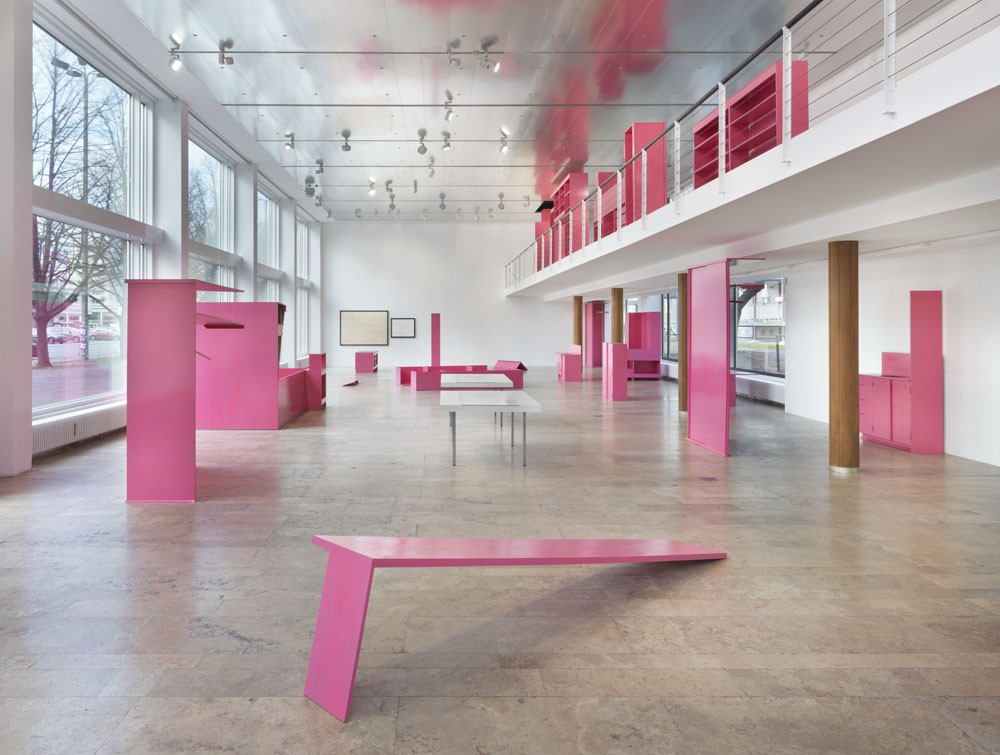 Installation view: Stephen Prina, "As He Remembered It", November 24, 2017 – February 3, 2018 © the artist, photo: Jens Ziehe
STEPHEN PRINA
As He Remembered It
24 November 2017 – 3 February 2018

Capitain Petzel is pleased to announce the second solo exhibition by visual artist and musician Stephen Prina, titled »As He Remembered It« which will be on view on three levels of the gallery's exhibition space from November 24, 2017 to January 13, 2018. The exhibition is an abridged version of the installation of the same title originally exhibited at Secession 2011 and Los Angeles County Museum of Art, 2013. The most recent example of the ongoing project entitled »Exquisite Corpse: The Complete Paintings of Manet« will be included in the exhibition, amongst others.

»As He Remembered It« is linked to an anecdote that Stephen Prina recalls as follows:
»Sometime in the early-to-mid 1980s, Chris Williams and I found ourselves on La Brea Avenue
in Los Angeles late one night. From across the street, we could see a spotlighted, pink object showcased in a storefront window, but, from our vantage point, we could not identify it. We crossed the street to gain a closer look. Conveniently, a label describing the object as a piece of furniture by R. M. Schindler was on display. Clearly, this desk that had once been built-in had been pried out of its surroundings with the attempt to render it freestanding. However, it appeared to us as an amputated limb.«

Stephen Prina (*1954, Galesburg, Illinois) lives and works in Los Angeles, California and Cambridge, Massachusetts, where he is Professor, Department of the Visual and Environmental Studies, Harvard University. Solo exhibitions include Museo Madre, Naples, Italy (2017); Museum Kurhaus Kleve, Kleve (2016); Kunst Halle Sankt Gallen, Sankt Gallen (2015); Los Angeles County Museum of Art, Los Angeles (2013); Vienna Secession, Vienna; Kölnischer Kunstverein, Cologne (2011); Contemporary Art Museum St. Louis (2010); Centro Andaluz de Arte Contemporaneo, Sevilla; Staatliche Kunsthalle Baden-Baden (2008); Frankfurter Kunstverein, Frankurt am Main (2000); Museum Boijmans Van Beuningen, Rotterdam (1992); The Renaissance Society and the Univeristy of Chicago (1989). Group exhibitions (selection): Mumok, Vienna; Museum Brandhorst, Munich (2015/2016); The Hammer Museum, Los Angeles (2014); Contemporary Arts Museum Houston (2013); Palais de Tokyo, Paris (2012); Museum of Contemporary Art Chicago; Walker Art Center, Minneapolis (2012); Whitney Biennial, New York (2008); Documenta IX, Kassel; Museum of Modern Art, New York (1992); Carnegie International, Pittsburgh (1991); Venice Biennale (1990).