Gabriel Vormstein
02 Apr - 01 May 2010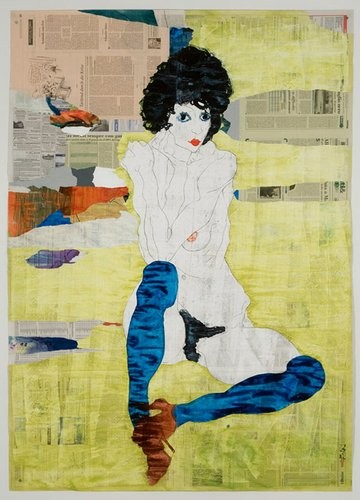 © Gabriel Vormstein
Evening of night, 2010
Pencil, watercolor, wallpaint on newspaper, collage
60.6 x 44" / 154 x 111 cm
GABRIEL VORMSTEIN
"Baby ABC"
Exhibition Dates: April 2 – May 1, 2010
Opening: Friday, April 2, 6 – 8pm
Gallery I
Gallery Hours: Tuesday – Saturday, 10am – 6pm
Casey Kaplan is pleased to present a new body of work by German artist, Gabriel Vormstein. In his third exhibition at the gallery, Vormstein presents six portraits on newspaper of women appropriated from artworks by Austrian artist, Egon Schiele (1890 -1918).
Vormstein's interest in exploring the relationship between figuration and abstraction began under the teachings of Andreas Slominski and Silvia Bächli at the Staatlichen Academy in Karlsruhe, where he graduated in 2001.
Inspired by an adoration of art history, specifically symbolic, romantic gestures and Modernism, Vormstein looks to Schiele. The quality of line that caresses each female body resurrects the late, young artist. In this exhibition, the ground onto which the women take form and the medium that flows from their clothes, hair and makeup is where the drama unfolds.
Vormstein believes that it is important to re-examine the lessons of Modernism. By redrawing the figures, he is capturing the body as an abstract shape that can be filled with new choices of color and medium, in his case the ground of newspapers, particularly the mechanical text of the financial pages. For the past ten years, Vormstein has worked with newspaper and other transient, organic, and "poor" materials, reminiscent of Arte Povera. His paintings have catalogued days, moments in time, and fleeting histories through the text and images that adorn his chosen 'canvases'.
The women portrayed in the portraits stand alone, psychologically charged and complex. Their fragility is mirrored in Vormstein's choice relationship between figure and ground. Simultaneously, in contrast with the women's graphic skin, watercolor and gouache flow freely in their inherent, transparent fluidity; blending foreground with back, hair with clothes and makeup to skin. Like protagonists in a story, new characters are revealed through Vormstein's personal inflections. Informing one another the portraits resonate, transcending time.
Gabriel Vormstein (b. 1974 in Konstanz, Germany) lives and works in Berlin, Germany. Recently, Vormstein had a solo exhibition, "Papyrus containing the spell top reserve its possessor," at Meyer Riegger, Berlin, Germany, 2009. Group exhibitions include "Seltsam, so lose im Raum," Kulturstiftung Schloss Agathenburg, Agathenburg, Germany, curated by Sabine Mila Kunz, through May 24, 2010; "Cargo Manifest," Kunsthalle Autocenter, Berlin, Germany, 2009; "Berlin 2000," PaceWildenstein, New York, New York, 2009; "Don Brown, Daniel Lergon, R.H.Quaytman, Gabriel Vormstein, Lawrence Weiner", Almine Rech Gallery, Bruxelles, Belgium, 2009; "Fit to Print", Gagosian Gallery, New York, NY, 2008; "Made in Germany", Kestner Gesellschaft, Sprengel Museum Hannover, Kunstverein Hannover, Hannover, Germany, 2007; "Of Mice + Men: 4th Berlin Biennial for Contemporary Art", curated by Maurizio Cattelan, Massimiliano Gioni, and Ali Subotnick, Berlin, Germany, 2006. The artist was the recipient of the Graduiertenstipendium des Landes Baden-Württemberg Award in 2002 and is nominated for the 2009/2010 Sovereign European Art prize.
For further exhibition information please contact Loring Randolph,
loring@caseykaplangallery.com
Next Gallery Exhibition: Trisha Donnelly, May 8 – June 26, 2010