Alexandra Pirici, Manuel Pelmus
Public Collection
22 - 28 Mar 2016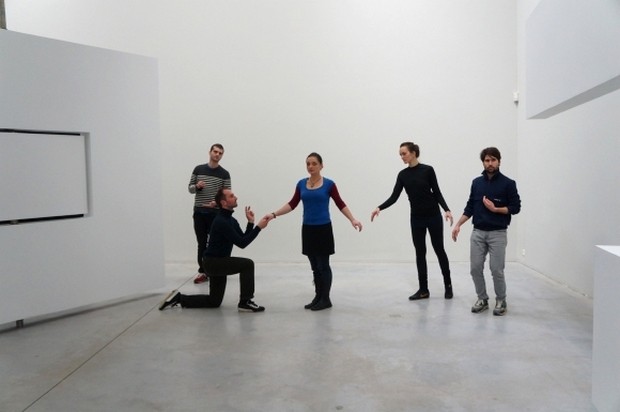 Alexandra Pirici and Manuel Pelmus, Public Collection, 2014. Enactment of Las Meninas by Diego Velasquez.
ALEXANDRA PIRICI, MANUEL PELMUS
Public Collection
22 — 28 March 2016

CURATORS: CHRISTINE WALENTINY, ANNA LOPORCARO

Acclaimed for their "immaterial retrospective" devised for the Romanian Pavilion at the 2013 Venice Biennale, Alexandra Pirici and Manuel Pelmus have since 2014 developed Public Collection, a project in which historic, recent, iconic or little known artworks, are corporally interpreted by a group of performers during "ongoing actions" undertaken in the museum setting. Characterized by its modular structure, allowing it to be adapted to the given context, the Public Collection project has, since its first presentation at the Playground Festival at the M Museum in Leuven, journeyed in different forms, via institutions such as the Van Abbemuseum in Eindhoven and the Centre Pompidou-Metz.

Invited jointly by Casino Luxembourg and Mudam Luxembourg to celebrate their double anniversary - the twentieth anniversary of the former and the tenth of the latter - Alexandra Pirici and Manuel Pelmus are presenting a new phase of Public Collection. Devised as two chapters of the same project, this collaboration between the two institutions has provided the artists with the opportunity to look more closely at art history in Luxembourg.

The "ongoing actions" they are presenting at Casino Luxembourg in March and at Mudam in July of 2016 see their "collection" enriched with works that, in one way or another, have marked the national artistic landscape in recent decades, a landscape the two institutions are part of and have helped shape. Wider "art history" enters into dialogue with that of the two institutions, a city, a country.

Performers:
Beniamin Boar, Rolando Matsangos, Maria Mora, Cristian Nanculescu, Cristina Toma.