Hlysnan: The Notion and Politics of Listening
17 May - 07 Sep 2014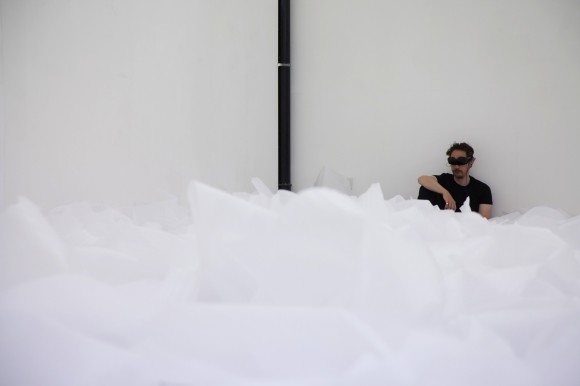 Sullivan and Flint
The Thing Is, performance at Motorcade / FlashParade in Bristol, 2012
© Thomas Heming.
HLYSNAN: THE NOTION AND POLITICS OF LISTENING
17 May - 7 September 2014

ARTISTS: LAWRENCE ABU HAMDAN, ANGIE ATMADJAJA, KADER ATTIA, NINA BEIER & MARIE LUND, DANIELA BRAHM & LES SCHLIESSER, PETER CUSACK, CLARE GASSON, MARCO GODINHO, CHRISTINE SUN KIM, BRANDON LABELLE, ANDRA MCCARTNEY, JOHN MENICK, ANGEL NEVAREZ & VALERIE TEVERE, UDO NOLL, EMEKA OGBOH, YOKO ONO, SUSAN SCHUPPLI, CHRISTINE SULLIVAN & ROB FLINT, JOHN WYNNE
CURATOR(S): BERIT FISCHER, KEVIN MUHLEN

Exhibition, publication, performances and workshops

In the Old English word hlysnan, "to listen", the focus is on the notions of attention and intent. Similarly the emphasis in the project HLYSNAN: The Notion and Politics of Listening lies on the active act not merely of hearing - usually referring to automatic or passive sound perception - but rather specifically on listening; hearing with intent.

Listening requires intensified concentration and attentiveness towards what one is listening to; it is linked to the notion of desire, anticipation and understanding, a striving for a possible meaning. HLYSNAN: The Notion and Politics of Listening understands listening as agency, as gesture, as attitude and as taking a position. The exhibition attempts to reconcile audio practices with contemporary social and political realities and invites the visitor to actively experience, listen and engage with the sense of hearing to the various complex interplays.