Animal Charm
28 Jun - 09 Aug 2014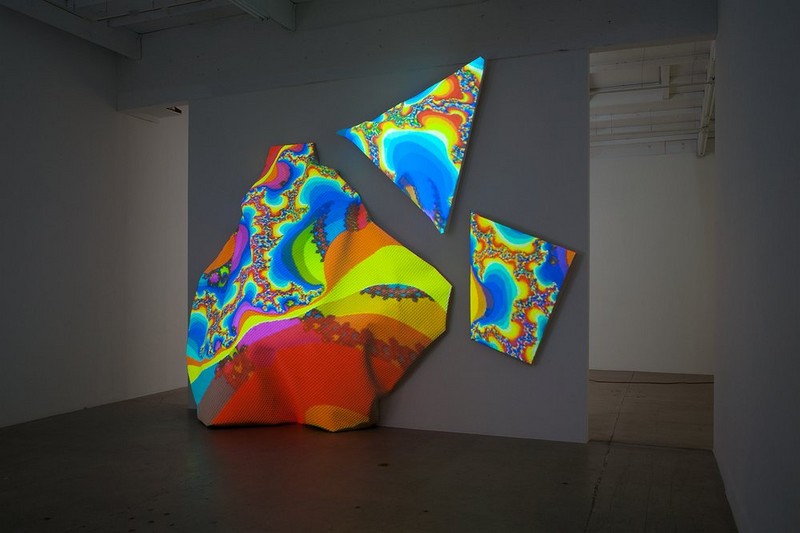 © Animal Charm
Tapeto Mortale, 2014
Carpet, PVC Pipe, Wood, Video Projection
120 x 132 x 42,
64 x 44 x 10,
70 x 65 x 10
ANIMAL CHARM
28 June - 9 August 2014

Animal Charm, a collaboration between Richard Bott (b. 1972 Louisville, Kentucky) and Jim Fetterley (b. 1971 Rockford, Illinois), has been working in video and performance for over 20 years. Jim and Rich met in 1990 while attending the School of the Art Institute of Chicago and began using found VHS tapes to make video collages in 1995. With the advent of YouTube still a decade away, the artists culled bins of discarded and devalued media, including industrial and promotional videos, bargain vinyl LPs, and consumer electronics to mix and collage into new work, composing unexpected juxtapositions in an attempt to subvert the original intentions of the found videos while eliciting new meanings from the detritus of culture. The duo traveled internationally, performing live audio visual sets at film festivals, micro cinemas, galleries, and museums. In 2000, Animal Charm relocated to Los Angeles where they are currently based.

Coming from an experimental film and video art background, Animal Charm was influenced by the work of Bruce Conner, Dara Birnbaum, and Dan Sandin's Image Processor, however the pair has continuously deviated from the established tropes of the found footage genre. Now in their platinum era of collaboration, Animal Charm's work has taken a new direction, creating video mapped objects, such as the two channel sculpture/performance "video campfire" produced for the 2013 Festival du Nouveau Cinéma in Montreal.

"Hot Shot Tuscan II" at China Art Objects marks the pair's first solo show of object-and-projection based work.