Electra Presents: 27 Senses
18 Jul - 22 Aug 2010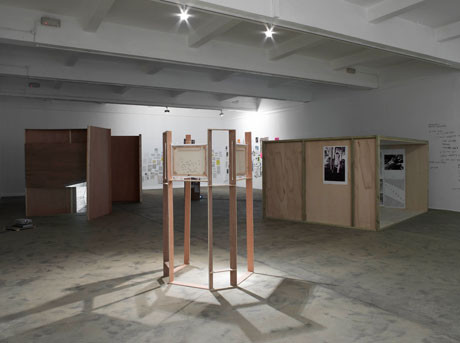 27 Senses, 2010
installation view at Chisenhale Gallery, London. Curated by Lina Dzuverovic and produced by Electra.
ELECTRA PRESENTS: 27 SENSES
18 July - 22 August 2010
Preview Saturday 17 July, 6 - 9pm (performances from 6:30pm)
Participating artists: Kenneth Goldsmith/ UbuWeb, Carl Michael von Hausswolff/ Selmer Nilsen, Karl Holmqvist, Jutta Koether, and Eline McGeorge
For the Summer Chisenhale Gallery hosts 27 Senses, an exhibition curated by Lina Dzuverovic and produced by Electra. 27 Senses is a group exhibition arriving at Chisenhale from the Norwegian fjords, based around the participating artists' investigation into a forgotten moment in the life of seminal artist Kurt Schwitters.
Emerging out of a research trip in 2007 to the Schwitters Hütte - a small Merzbau-like structure on the remote island of Hjertøya that the artist inhabited and transformed during his exile from Germany in the 1930s, the project developed in close dialogue with a unique site. Yet in its own subjective and heavily abstracted way, 27 Senses stretches beyond locality and speaks also of the very abandonment of a place. In focus here is the idea of stopping and starting, the notion that Schwitters was forced to rebuild his life (and the Merzbau) several times due to the political situation that led to his exile from Germany to Norway and subsequently to the UK. The geopolitical conditions the artist had to navigate continuously induced as well as restricted movement, making the relationship with place fluid and temporary.
Ideas of leaving behind and starting anew remain central to the new incarnation of 27 Senses, a move that coincides with Schwitters' own journey from Norway to the UK in the summer of 1940. This transition is one where the artists involved in the first chapter of the exhibition will continue their dialogue with Schwitters in ways that stretch beyond historical specificity to a more intuitive and personal engagement with both a specific place and movement away from locality. This includes a new commission by Norwegian artist Eline McGeorge, an installation which plays with the organic, multilayered and collage-like structure of the Schwitters' Hütte. Deliberately breaking up 90 degree angles and disrupting the angularity of the white cube, the installation re-introduces an enveloping environment, as the gallery itself becomes a form of Merzbau structure. Enveloping the viewer, the installation continues a dialogue with Schwitters' desire to collapse the barrier between art and life in an enveloping experience similar to that of a Wagnerian Gesamtkunstwerk, yet in a more quiet and subtle language. Visitors to McGeorge's Hütte in London will have a markedly different experience, and yet the work ties back, by extended links of kinship to Hjertøya and its crooked structure. This simultaneous conversation with movement, with taking a remnant and starting anew is something that links together the two shows, just as it, significantly, tied Schwitters' eclectic and nomadic practice together.
Schwitters' eclectic practice spanned across painting, immersive installation, performance, sound poetry, typography, collage and sculpture and has had a crucial, but often overlooked, influence on contemporary artistic and performative practices. 27 Senses takes the form of an exhibition and performance programme, investigating how certain ideas central to Schwitters' oeuvre are manifesting themselves today across the visual arts, performance and sound based practices.
The first stage of 27 Senses took place in the summer of 2007 in the form of a visit to the region by the selected artists. This research trip served as an initial on-site exploration of the presence of Schwitters in the area, and as a basis for the creation of site- specific works. 27 Senses at Chisenhale is the third stage of the project, following the exhibion at Kunstmuseet KUBE in 2009.
Electra is a London based contemporary art agency which specialises in curating, commissioning and producing ambitious cross-disciplinary projects by artists working across sound, moving image, performance and the visual arts.
www.electra-productions.com
27 Senses is part of CREATE10
www.createlondon.org
About the Artists:
Kenneth Goldsmith's writing has been referred to as 'some of the most exhaustive and beautiful collage work yet produced in poetry' by Publishers Weekly. Goldsmith is the author of nine books of poetry including his American trilogy, The Weather (2005), Traffic (2007) and Sports (2008). He is also the founding editor of the online archive UbuWeb, and the editor of I'll Be Your Mirror: The Selected Andy Warhol Interviews, which inspired the opera 'Trans-Warhol' (Geneva, 2007). A documentary on his work, SUCKING ON WORDS: Kenneth Goldsmith premiered at the British Library in 2007. Goldsmith hosts a weekly radio show on New York City's WFMU and teaches writing at the University of Pennsylvania, where he is the senior editor of PennSound, an online poetry archive. He has been awarded the Anschutz Distinguished Fellow Professorship at Princeton University (2010) and his book Uncreative Writing is forthcoming from Columbia University Press.
Carl Michael von Hausswolff is a composer, artist and curator based in Stockholm, Sweden. His main tools are electronic devices such as cameras, audio recording machines, radar, sonar - used in an ongoing investigation of electricity, frequency, architectural space and paranormal electronic interference. Recent solo shows include Carl Michael von Hausswolff, Galeria Enrico Fornello, Milano (I) with T. Nordanstad (2010); Red-Red, Kaliningrad Regional Art Gallery (NCCA), Kaliningrad (RU) with Y Vassiliev (2009); Adoptations, Gallery Niklas Belenius, Stockholm (S) (2009); Enter: Sonic Tank, Tou Scene, Stavanger, Norway (2009); Del Sol St Gallery, Santander, Spain (2008). Group shows include 27 Senses, Chisenhale Gallery, London (2010); Interference, Moderna Museet, Stockholm, Sweden (2010); WACH SIND NUR DIE GEISTER, Center for Contemporary Art, Torun, Poland (2010); Favoured Nations, Momentum, Nordic Bienniale, Moss Norway (2009); 27 Senses, Kunstmuseet KUBE, lesund, Norway (2009); Red October, Moscow Biennial, Moscow, Russia (2009); UTOPICS 11th Sculpture Biennal, Biel/Bienne, Switzerland (2009); Ghost In The Machine, Kunstnerernas Hus, Olso, Norway (2008).
Karl Holmqvist lives and works in Stockholm and Berlin. His work involves writing, installation, video and performance, often in combination. In his eclectic practice, language works as a form of ready-made, where extensive quoting provides new, sometimes unexpected, content. His most recent solo exhibitions include: Entrevista con el Vampiro, GaGa Gallery, Mexico City, (2009); down and out, Galerie Dependance, Brussels (2008); BOOMTOWN, The Living Art Museum, Reykjavik (2008); The Grey Triangle, Hollybush Gardens, London (2007). Group shows include: 27 Senses, Chisenhale Gallery, London (2010); Favoured Nations, Momentum, Nordic Bienniale, Moss, Norway (2009); Poor. Old. Tired. Horse, ICA, London (2009); Curated by Vienna, Galerie Martin Janda, Vienna (2009); 27 Senses, Kunstmuseet KUBE, lesund, Norway (2009); Manifesta 7, Trento (2008) and Boom Town, The Living Art Museum, Reykjavik (2008). Holmqvist has also released a book of collected writing WhatÕs My Name? published by Bookworks, London in 2009.
Jutta Koether is a German born painter, performance artist, musician, writer and theoretician based in New York. Recent solo shows include: Lux Interior, Reena Spaulings Fine Art, NYC (2009); Sovereign Women in Painting, Susanne Vielmetter Projects, Los Angeles (2009); New Yorker Fenster, Galerie Daniel Buchholz, Cologne (2008); JXXXA LEIBHAFTIGE MALEREI, Sutton Lane, Paris (2008). Recent group shows include: 27 Senses, Chisenhale Gallery, London (2010); TRIO (3 women artists: Jo Baer, Lynda Benglis, Jutta Koether) van Abbe Eindhoven, Netherlands, (2009); 27 Senses, Kunstmuseet KUBE, lesund, Norway (2009); modern modern, Chelsea Art Museum, NYC (2009); If I CanÕt Dance, I DonÕt Want To Be Part Of Your Revolution, De Appel, Amsterdam (2007 and 2006); The Whitney Biennial (2006), Her Noise, South London Gallery (2005). Koether is also a member of faculty at Bard College, NY. She regularly contributes to publications such as Artforum and Afterall and is the former editor of German culture and music publication Spex.
Eline McGeorge is a Norwegian artist based in London and Berlin. Her work is drawing-based, using collages, photographs, montages, sculptures and animated drawing. Recent solo shows include: Hollybush Gardens, London (2009, 2007 and 2005), Travelling Doubles 2, Gallery Kirkhoff, Copenhagen (2008); Among Familiar Strangers and Surveilled Places, Fotogalleriet, Norway (2007); and Possibilities of Another Place, Display Gallery, Prague (2004). Group exhibitions include 27 Senses, Chisenhale Gallery, London (2010); Favoured Nations, Momentum (2009); 100 TAGE=100 VIDEOS, Heidelberger Kunstverein, Germany (2006); Boundless(Grensel¿s), Steneresen Museet, Oslo (2005-6); B Hotel, PS1Contemporary Art Center, New York (2001/2); Break in Theatre 2 (touring major spaces in Japan) and Bloomberg New Contemporaries (2001).
27 Senses was made possible with the generous support of Arts Council England, Kunstmuseet KUBE, Electra, Stiftelsen Kjell Holm, Elephant Trust, Office for Contemporary Art Norway, Royal Norwegian Embassy, London.