Cooper Jacoby and Marina Pinsky
18 Apr - 01 Jun 2013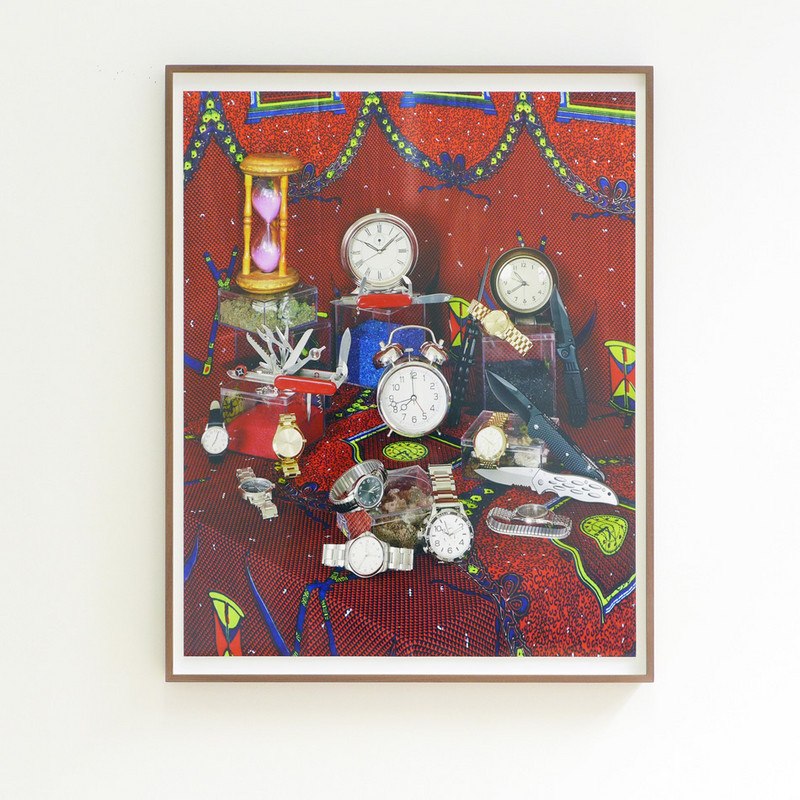 © Marina Pinsky
A & B Time, 2013
Archival ink jet print
74,5 x 60 cm, 29,3 x 23,6 in, #1/3, MPIN001,
courtesy of the artist and C L E A R I N G, New York, Brussels
COOPER JACOBY AND MARINA PINSKY
Tradewinds
18 April - 1 June 2013

In the downstairs gallery Cooper Jacoby's sculptures hang adjacent to Marina Pinsky's photographs.
At the entrance to the exhibition, Jacoby has removed the former hardware of the interior door and replaced it with a set of large steel pulls. Similar to the type of handles mounted on the glass doors of retail stores, these pulls redesign the reception of the space. Inset into the nickel-plated hardware at heights from head to toe are 5-cent coins from different world currencies. Extinct from circulation, these coins feature flora and fauna which disappear into the surface of the pulls but manifest themselves tactilely in the slots where coins are absent. Inbuilt into the environment as "look and feel," these coins pass between hands without exchange.
The photographs Marina Pinsky presents originate from the work Salt, Sugar, Soda (2011). In this image, the text on the packages was "greeked" through pixilation. Recent photographs use fabric of African design which was printed in Holland, bought in New York, photographed in Los Angeles, and exhibited in Belgium. Each image uses the pictorial content of the fabrics and puts these objects to work against the frame that encloses them.
Pinsky's work Instruction Manual, composed of twelve black-and-white photographs, is meant to have the same functional relationship to the frame. The photographs form a series that is not sequential, and contains an action that never achieves culmination. The figure of the lock-picker allegorizes the unsuccessful entry into the "window" of the photographic picture plane. The prints were made by overlaying two negatives in the enlarger prior to exposure. Two slices of time are thus superimposed but rather than following one another, they occur at various points within a span of several hours.
In the front gallery stands an installation of wire racks. For this work, Jacoby has used a found magazine rack distributing free publications and folded it into similar models which have yet to be painted, assigned a publication and location. In Jacoby's series Accents, scrap wood found near historic markers and plaques are cast in plaster with the prepositions of these particular narratives transferred onto the surfaces of the wood. Retaining the layout of each marker and pigmented to correspond to the facades where the wood was retrieved, the casts present an inventory of the sites emptied of their contents.Without things and actions, the casts harden words without material and sediment the syntax which organize objects into events.