Edward Burtynsky
27 Jul - 09 Sep 2012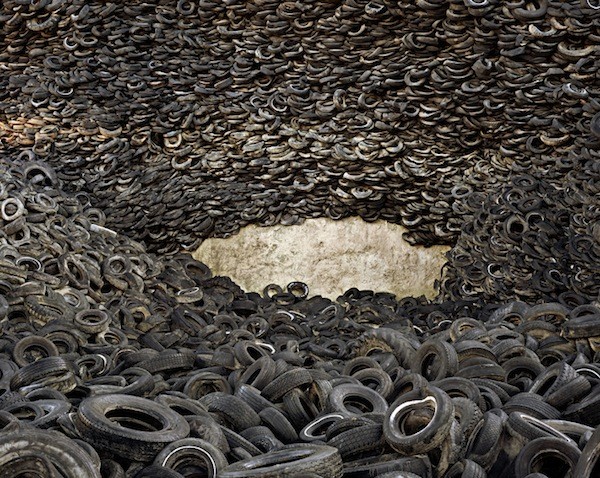 © Edward Burtynsky
Oxford Tire Pile, #4, Westley, California, USA 1999
Courtesy Nicholas Metivier, Toronto/ Flowers, London
EDWARD BURTYNSKY
Oil
Photographs
27 July - 9 September 2012

"The Gulf of Mexico is a very big ocean. The amount of volume of oil and dispersant we are putting into it is tiny in relation to the total water volume."
Tony Hayward, CEO British Petrol

Rusting refinery towers, clogged oil pumps, shining chrome pipelines, smoking refineries—oil rules the world with immense power. For over 100 years, this fossil fuel energy source has been driving the modern world order with its massive, destructive intrusions into nature. The age of oil has burned itself deep into the environment, deforming natural landscapes and dramatically altering human ways of life. And yet the means of its production, the basis of petrochemical civilization and the sweeping consequences thereof remain a terra incognita to this day. Like no other photographer before him, Edward Burtynsky has documented every element of the vast circulatory system that comprises the global oil industry. His large-format photographs reveal in vivid detail the connections between oil consumption, oil transport, and oil production, all the way to waste disposal and its ongoing effects on the landscape. In his photographic series, Burtynsky critically interrogates the pursuit of affluence as well as individual actions and their consequences.