Anish Kapoor
01 Sep - 23 Dec 2007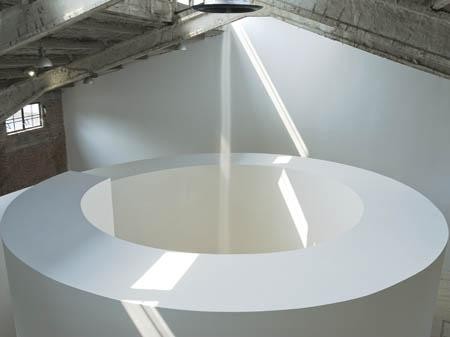 © ANISH KAPOOR - Ascension
2007, site specific project, Galleria Continua Beijing 2007, Ph. Oak Taylor-Smith
ANISH KAPOOR
"Ascension"

Galleria Continua in Beijing has the great honour to present Anish Kapoor's first solo exhibition in China, opening on September 1st, 2007.
Having been working with the Anglo-Indian artist since 1997, Galleria Continua is now delighted to offer to the local and international public a show conceived for its premises at the 798 Da Shanzi Art District.
Exhibiting one of the most influential artists of his generation, in one of the most active and pulsating areas of the Chinese contemporary art scene, is certainly a reaffirmation of the gallery's keen will of taking a step further towards the construction of a mature system of artistic vital experience.

Anish Kapoor is an artist who commits himself to construction, in every sense, valuating the aesthetic perception of spaces rather than focusing on objects themselves. This is true for his large-scale installations as well as for his smaller art works, where the space is captured inside its earthly setting of the physical limits of the sensory matter, and is returned altered and deformed in a way that induces intensified perception and aesthetic experience. In the work of Anish Kapoor the meaning of the constructive act is immediate, especially whenever there are sensorial games or illusions: the void that can be perceived as surface, or creating shape; the reflection that overturns or erases the image; light that alters or modulates colour; figures that take shape as a result of physical and optical effects mystical ascensions, ghostly presences which lead elsewhere. The latter, in particular, can describe the impression that comes to the onlooker while entering "Ascension" latest installation in the Beijing Galleria Continua's space.
A massive spiral pathway takes one through a sensorial experience that leads the witness from a low, half-shaded gate, through a darker and narrower corridor, to the final luminous opening. The claustrophobic feeling that can invade one's experience is suddenly denied by the revelation of ascending and ethereal apparition.

Known and admired for his enigmatic sculptural forms, this new corpus of works shows how Anish Kapoor continues his exploration of the antithesis: inner and outer, emptiness and fullness, presence and absence, the solid versus the intangible.

As Pier Luigi Tazzi wrote "One of the constants in the work of Anish Kapoor is the creation of clefts on the crust of the world, [...] a crust pierced at different levels, at different heights or altitudes, with varying and different degrees of penetration, suggesting a multiplicity of directions and possibilities, of varied thickness and depth, of varied and different impact".


Anish Kapoor was born in Bombay in 1954 and since the early 70's he lives in London where he studied at Hornsey College of Art and graduated at Chelsea School of Art Design.
Over the past twenty years Anish Kapoor has exhibited extensively in London and world-wide. His solo shows have included venues such as Kunsthalle Basel, Tate Gallery and Hayward Gallery in London, Reina Sofia in Madrid, CAPC in Bordeaux, CCBB Centro Cultural Banco do Brasil in Brasilia, Rio de Janeiro and Sao Paulo. He has also participated internationally in many group shows including The Royal Academy and Serpentine Gallery in London, Documenta IX in Kassel, Expo Seville in Seville, Moderna Museet in Stockholm and Centre Georges Pompidou and Louvre in Paris, Musée des Beaux-Arts de Nantes.
Numerous private and public collections including the Museum of Modern Art in New York, the Palacio de Velazquez in Madrid and the Stedelijk Museum in Amsterdam hold his art works.
Kapoor's interventions "Marsyas" at the Tate Modern Turbine Hall in London, "Cloud Gate" at the Millennium Park in Chicago, "Underground" inside the medioeval tower of Sant'Agostino in San Gimignano, and the Monte Sant'Angelo subway stations in Naples, are among his most acclaimed public commissions.
Anish Kapoor was awarded the 'Premio Duemila' at the Venice Biennale in 1990, the Turner Prize Award in 1991 and was awarded an Honorary Fellowship at the London Institute in 1997 and a CBE in 2003.