Grundfrage (Question Fondamentale)
17 Feb - 05 May 2013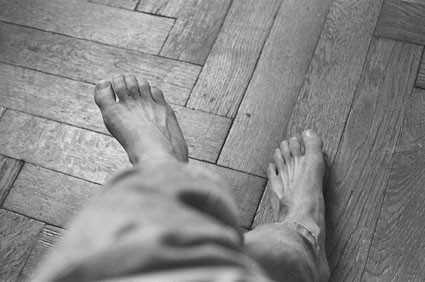 Max Peintner
Ohne Titel (Selbstbildnis 1), 1984
Photographie noir et blanc
Courtesy de l'artiste et Gallerie Georg Kargl, Vienne
GRUNDFRAGE (QUESTION FONDAMENTALE)
NILS BECH, CARINA BRANDES, CHRISTIAN FALSNAES, JOS DE GRUYTER & HARALD THYS, FLORIAN HECKER, OSCAR MURILLO, NOËLE ODY, MAX PEINTNER, JEAN-MICHEL WICKER
+ « LEGS IN THE MORNING » DE GETA BRĂTESCU, UN CONCERT DE KOUDLAM, UNE CONFÉRENCE DE COLIN DE LAND (1992), « SCENT OF THE WITHERING ALPINE ROSE » DE MARTIN WALDE, SCHORSCH BÖHME
17.02.13 - 05.05.13

Commissariat de Severin Dünser et Christian Kobald, COCO Vienna
Sur une invitation de Sophie Kaplan

+ GUILLAUME BARTH
Sur une invitation de l'équipe du CRAC

« Il faut des décors qui, s'ils représentent une ville par exemple, donnent l'impression d'une ville construite seulement pour durer deux heures. La réalité du temps doit être rétablie. Tout doit être provisoire et pourtant faire preuve de respect. » (BB)

Avec Grundfrage le CRAC Alsace devient une énorme scène présentant tout à la fois un mix d'art et de non-art fortement basé sur le temps, une œuvre d'art totale dispersée (gestreutes Gesamtkunstwerk), un genre d'exposition néo-90s. Bien que cette exposition collective soit thématique, son sujet reste caché au public et n'a été communiqué qu'aux artistes (afin de garder tout didactisme à l'écart de l'exposition). Les œuvres questionnentquoique de manière oblique. Du point de vue de l'histoire de l'art, on pourrait l'associer à la symbolique de la nature morte, et du point de vue du quotidien, aux restes d'une fête. Une petite publication sera éditée à l'issue de l'exposition.

À cette occasion, un petit catalogue d'exposition sera publié en format digital.