Helen Mirra
07 Jun - 14 Sep 2014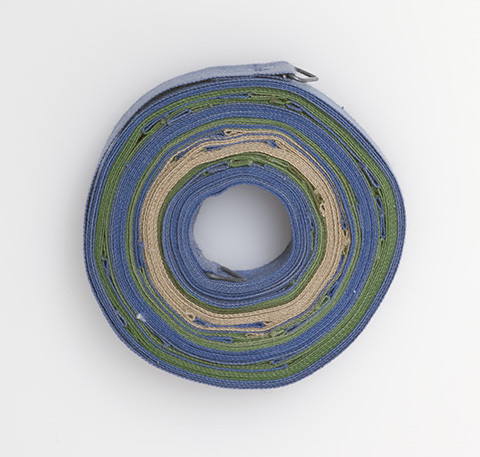 © Helen Mirra
Mapa do paralelo 46 ̊ N à escala de uma polegada por um grau de longitude, 2000
Aguarela sobre algodão · 1,6 x 914,4 cm
Coleção Ann e Marshall Webb, Toronto
HELEN MIRRA
Edge Habitat
7 June - 14 September 2014

Curator: Miguel Wandschneider

Helen Mirra (Rochester, New York, 1970) has been taking a non-anthropocentric approach to the condition and experience of the individual in the world, particularly in relationship with nature. Her work is characterised by her highly economical use of resources, procedures and formal solutions – frugality is absolutely the right word in this case. Frequently, the artist evokes specific philosophical and literary references (William James, John Dewey, W.G. Sebald and Robert Walser, for example), drawing from certain traditions in contemporary art, particularly minimalist sculpture, conceptual art and concrete poetry. This exhibition is an extensive retrospective of a genealogy of works materialised in the form of 16 millimetre-high strips of cotton fabric painted in single colours (an explicit reference to the film strip itself), of varying lengths, which the artist habitually uses as a support for the typing of text. The exhibition is punctuated here and there with other types of pieces (sculpture, painting, sound), whose selection was determined by that same body of work, in this way unfolding other aspects of Helen Mirra's artistic practice.