Christian Holstad
10 Dec 2009 - 26 Feb 2010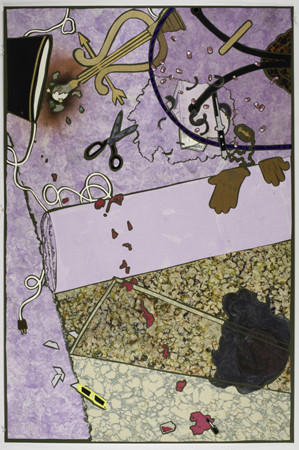 © Christian Holstad
Evidence of Liberating Fallen Sparks From Matter, 2009
Collage on Paper
60 x 40 inches
CHRISTIAN HOLSTAD
"The World's Gone Beautiful"

December 10th - February 26, 2010

Daniel Reich Gallery is pleased to present a show of new work by Christian Holstad, "The World&'s Gone Beautiful." Holstad's title is based on a haunting Malvina Reynolds song in which the end of the world is anticipated with hyper real observation. Reynolds experiences the world intensely- feeling wind on skin: seeing "hands flexing like silver leaves." Holstad's new work is concerned with beginnings and endings as expressed in the life and death of "things" metaphorically born in shopping carts, "used-up" and then buried in garbage pails. Holstad's trademark intensity is provoked here by intimate carefully chosen descriptive detail and the juxtaposition of flat graphic work and flexible sculpture. Through the chain link fence of an urban schoolyard (another container of sorts), a deep green Holstad collage shows a hopscotch board numbered 1-2-3-4-5-6-7-8-9 and as a single digit decade comes to a close: ontology and consumption are intertwined as populations describe themselves as assemblages of "things." Unlike human nakedness, durable goods of unchangeable shape and size evidence a mentality of proscribed classless upward mobility. Hence, the shopping carts are inscribed with brand names like The Home Depot, Costco and Wal-Mart. It is a sign of mental health to "care for" and to replace our things on a biennial basis with better-suited renditions of ourselves. We inhabit a virtual needle park of "things" - quick fix disposables crammed helter-skelter into drawers and closets. Yet once the wholeness high accompanying the acquisition of a fantastic shoe fades, our muscles contract as an uneven shoulder creeps towards an ear in fear.

"The World's Gone Beautiful" is a spare measured examination of becoming and unbecoming and the implicit fluid swill of mixed emotion and half remembered events between. Given Holstad's emphasis on becoming, it is not surprising that somewhat obscured by the schoolyard's chain link fence we see like a distant memory the carefree jungle gym iconography of a child's playground. We ride shopping carts as toddlers perched regally above a heap of fresh things as we grab for more at the check out counter. Perhaps it is the parental injunction to "put it back" that impels us towards the economic independence described as adulthood. Like a sea of jellyfish whose increasing prevalence in the contemporary world is enabled by rising water temperature and altered ecosystems, Holstad's shopping carts proliferate around the raw gallery space in soft format as though melted by an atomic blast. Their formation is evocative as at times they appear like glittering cobwebs or a tangle of chain necklaces in a jewelry box. While the flat graphic composition of the collages gives them the sensation of stillness or still lifes, the carts seem anthropomorphic and sinister. The sentimental things, abandoned in the garbage provoke the sad affection of a prosthetic limb as some discards like an umbrella and bra protect the body and like the shopping carts pressed to the floor by gravity, the garbage pails echo vessels in a Greek sense; Rythons on their side spilling blood, fertilizing the ground. In this respect, carts and pails are humble homes for the contemporary spirit and the particular New York City pails that Holstad has chosen have a timeless quality as they have occupied the streets for the length of living memory - elegantly fluted mesh cylinders at times inverted resembling a bird cage.

And we are not so different from the elastic enveloping carts, all rather ordinary, despite our aspiration for difference. We are rather, insatiable empty vessel's looking to be fulfilled and as we are used up and knocked about like the twisted banged up metal can, little truly immortal spills out besides an assemblage of spent markers of hope and despair destined for anonymity when taken to be interred in the unmarked grave of a potter's field.


Christian Holstad was born in Anaheim, California in 1972; he lives and works in New York. Holstad has shown extensively in the United States and abroad. Currently, his work is on view at the Galleria Civica Modena in Italy in a solo exhibition entitled I Confess. An illustrated catalogue accompanies this exhibition, published by Mousse Magazine. Recent solo exhibitions also include "American Standard" at Victoria Miro and "Christian Holstad" at Massimo de Carlo. In the last year, Holstad has also exhibited an installation of Light Chamber (Part 2) at the X-Initiative in New York and a selection of his works were shown for the Compass in Hand, Selections from the Judith Rothschild Collection at the Museum of Modern Art and Unmonumental, at the New Museum.