Heather Cook
14 May - 18 Jun 2011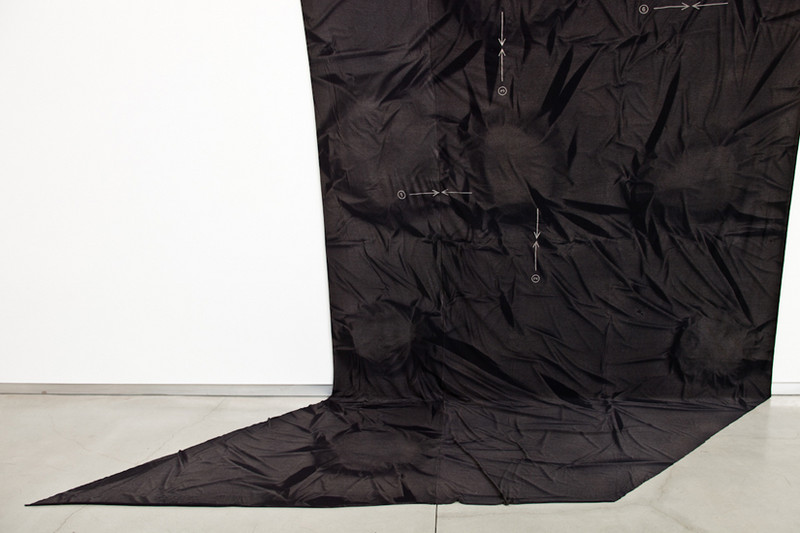 © Heather Cook
Routine 7 Fold with Shadow (Black), 2011, (detail)
silkscreen and bleach on cotton jersey and push pins
92.5 x 118 x 36 inches (235 x 299.8 x 91.4 cm)
HEATHER COOK
14 May — 18 June, 2011

David Kordansky Gallery is very pleased to announce an exhibition of new work by Heather Cook. The exhibition will open on May 14 and run through June 18. An opening reception will be held on Saturday, May 14 from 6:00 to 9:00 pm. Cook's practice is an ongoing investigation of the distinctions between material and image, as well as those between artworks and the framing devices that surround them. This show represents an ambitious expansion of these concerns, and includes large-scale interactions with the architecture of the exhibition space.

Cook has become known in recent years for wall-based works in which she subtracts pigment from sheets of jersey cotton. By arranging the material on the floor and spraying it with bleach before unfurling it and hanging it on the wall, she marks the fabric with a visual memory of itself in a prior condition. The painterly and the photographic are played against one another, and a complex array of effects simultaneously refers to illusionistic space and to process-based materiality. Entitled Routine Folds, the bleached jersey work on view in the current exhibition represents yet another form of process, one that goes beyond the making of marks. It has been silkscreened with numbers and arrows that instruct handlers how to place it in the box in which it is transported.

When seen from the front, a new sculpture appears to consist of two free-standing walls. In each, a thin U-shaped opening allows the viewer to see through to the gallery wall behind it. However, when approached from the rear, it becomes evident that each wall has been covered on one side with denim, and that it resembles a large back pocket. It is here that Cook embraces humor to set up a system of visual and linguistic puns. Back sides are backsides, and the denim has been distressed by frottage; instead of a pack of cigarettes or a wallet, however, the ghost of a painting stretcher floats in each pocket. The trinity of image, support, and architecture which traditionally defines the objecthood of painting has been folded upon itself. By using an item of clothing as a basic formal parameter, Cook calls attention to underlying, and often unnoticed, foundations for aesthetic decisions: the shape of the body, the patterns of physical and psychological 'use' that become habitual, and the objects and rituals that define the intimacies of everyday life.

The artist addresses the unconscious nature of this process in a pair of large-scale installations that incorporate photography and overt autobiographical reference. In each, a photograph is pinned against an existing wall by a full-sized, leaning wall constructed in the space. Taken when she was a young girl, the photograph shows Cook herself posing for the camera; she, like the walls that bisect her image, is leaning to one side. The walls act out an architectural repetition of her pose, and become both supports and hanging mechanisms; in this context the photograph becomes a critique of formalism divorced from its connection to the body. Together, both elements suggest that the self is an image which can take any number of shapes or material manifestations; conversely, formal relationships can expand the understanding of memory, and therefore of the self's development as a function of its environments.

In Cook's practice, materials are imbued with a sense of duration, an index of their evolutions within the context of the practice as a whole. Nowhere is this more clearly articulated than in a floor-based piece on view in this exhibition. Woven from scraps of fabric that result from the creation of wall-based works, as well as entire fabric works that she has discarded, it takes form as a rug, an accumulation of negative space in both physical and conceptual terms. Here acts of exclusion can be read as form; and as in photography, positive and negative are brought together to create an image. Cook has developed a picture of her own process and labor, but as seen from the perspective of the materials themselves.

Heather Cook's work was featured last year in How Soon Now, Rubell Family Collection, Miami. She has also recently been included in Gruppenausstellung 2, Max Hans Daniel Gallery, Berlin; Heather Cook, Alex Olson, R.H. Quaytman, Ry Rocklen, Gedi Sibony, Rental, New York; Abstract Abstract, Foxy Production, New York; and Samedi/Samedi, Galerie Art:Concept, Paris, among other group exhibitions. She lives and works in Los Angeles. This is her first solo exhibition at the gallery.