Joshua Mittleman
13 Dec 2008 - 13 Jan 2009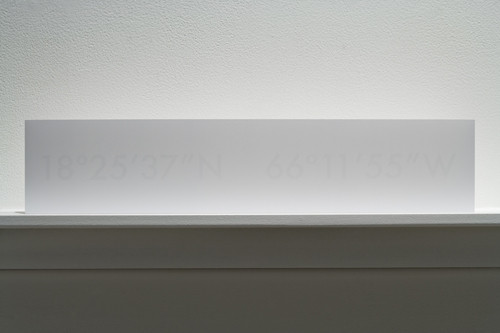 © Joshua Mittleman
Echelon #3, Sabana Seca, Puerto Rico, 18°25'37"N 66°11'55"W
digital print on plexiglass
5 x 24 x 1 inches
12.7 x 60.96 x 2.54 cm
JOSHUA MITTLEMAN

34°04'02"N 118°14'16"W

Decmber 13, 2008 - January 13, 2009

David Kordansky Gallery Chinatown is pleased to present 34°04'02"N 118°14'16"W, a project by Copenhagen based artist Joshua Mittleman. The opening reception will be held on Saturday, December 13th, from 6 to 9pm. In 34°04'02"N 118°14'16"W, Joshua Mittleman examines the politics of surveillance and government power through the lens of minimalism.
Mittleman utilizes large black and white digital prints, Plexiglas sculptures, and video to challenge the viewer's process of seeing. Aesthetically, the work appears austere and spare, but behind the surface, issues regarding abuses of government power and the politics of surveillance inform the work. The source material includes heavily redacted documents made available through the Freedom of Information Act, the locations of the ECHELON listening program, and the 1974 Francis Ford Coppola film, The Conversation.