Rashid Johnson
30 Oct 2009 - 16 Jan 2010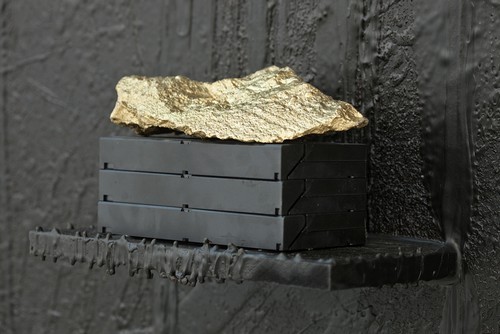 © Rashid Johnson
Sun Goddess, 2009, (detail)
black soap, wax, vinyl, VHS cassettes, shea butter, space rocks,
97 x 122 x 7 inches (246.4 x 309.9 x 17.8 cm)
RASHID JOHNSON
"Other Aspects"

Oct 30, 2009 - January 16, 2010

David Kordansky Gallery is pleased to announce Other Aspects, the gallery's first exhibition with Rashid Johnson. The opening reception will be on Friday, October 30 from 6 to 9pm, and the exhibition will be on view through January 16.

While Johnson's gravitation toward some materials (shea butter, record covers, incense) seems to suggest specific signifiers or pop cultural references, he treats these merely as starting points, seeking to discover larger, even universal, themes that might be latent in their DNA. As a result, the selection of materials becomes the foundation of a personal cosmology that bears traces of its source materials while simultaneously transcending them.

This process is well illustrated by the sculptures, both wall-based and freestanding, that Johnson has equipped with working CB (community band) radios and/or steel and brass antenna-like constructions. Part reliquary, part painting, part assemblage, and part pirate radio station, and indebted to cultural figures as diverse as Carl Andre, Joseph Cornell, Eldridge Cleaver, and Eric Dolphy (the exhibition's title is drawn from Dolphy's 1960 album of the same name), these sculptures are representative of attempts to reach out into the unknown, to acknowledge the confines imposed by received notions of identity and thereby escape them.

Just as the works' materiality is an assemblage of distinct attitudes toward the symbolic potential of the physical world, the poetic associations they call into play are indicative of a mystical, exploratory countenance. An example of this is Johnson's conflation of racial otherness, fear of the unknown and the intimidating existential unknown exemplified by our views of outer space, extra-terrestrial life and cosmological distances.

CB radio in particular offers a poignant metaphor for achieving a measure of anonymity in a densely coded social context. As an example of a proto-internet technology prevalent in the 1950s, 60s, and into the 70s, CB allowed (and in some cases continues to allow) its users to function in a community free from hierarchical assumptions based on physical characteristics; it opens a path of escape from the narrowly drawn confines of established identities.

The sculptures are also waypoints in an ongoing narrative that Johnson has been developing over the course of several years' worth of work, in which he develops environments for, and images of, a mysterious group of individuals once referred to as 'The New Negro Escapist Social And Athletic Club.' In Other Aspects, Johnson has exchanged the photographic portraits of hypothetical members of the 'Escapist' club for black-and-white photographs of naked white women. These female figures, shrouded in smoke, evoke pin-ups––even their scale seems to recall the calendars or advertisements frequently seen in automotive garages or other predominantly male workspaces––as well as stand in for the male subjects whose images they replace. Both the subjects and objects of a sexualized, racialized gaze exist in a continuum of image making in which it becomes difficult to tell who is looking at whom.

In keeping with the hidden neurotic ramifications of such a gathering space, one of the sculptures includes four, chaise-like leather benches that recall couches from a psychiatrist's office. Whoever the users of this hypothetical space are, their repressed anxieties have been fully integrated into its design.

In 2008 and 2009, Rashid Johnson was the subject of one-person exhibitions at Sculpture Center (Long Island City, New York) and the Kunstmuseum Magdeburg (Germany). Johnson has been included in several of the seminal exhibitions of the last decade, including Freestyle (Studio Museum, New York, curated by Thelma Golden), A Perfect Union...More or Less (Renaissance Society, Chicago, curated by Hamza Walker), and 30 Americans (Rubell Family Collection, Miami). In 2010 his work will be on view as part of From Then To Now: Masterworks of African American Art (MOCA Cleveland, curated by Margo Crutchfield). Johnson's work is part of the collections of the Whitney Museum of American Art, the Art Institute of Chicago, the Brooklyn Art Museum, and the Studio Museum, among other public and private institutions. He lives and works in New York.