Steven Claydon
27 Apr - 22 Jun 2013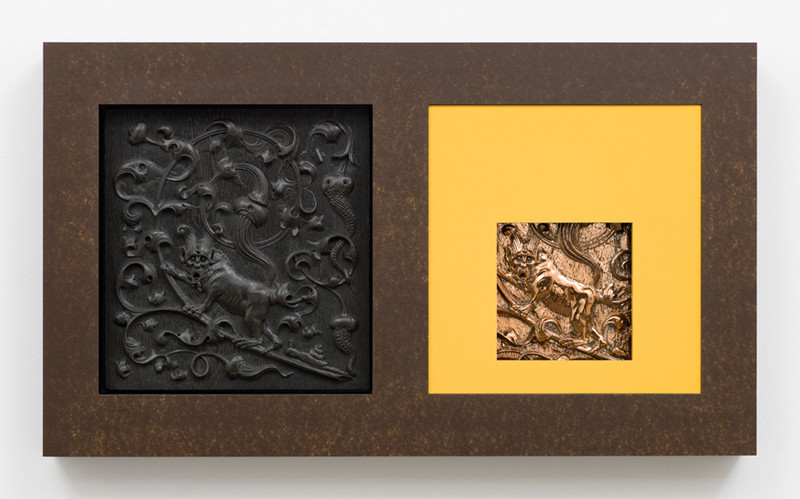 © Steven Claydon
Troglodytes (crop), 2013, (alternate view)
resin, chemical chroming, lacquer, laminated wood
29.53 x 51.18 x 3.94 inches (75 x 130 x 10 cm)
STEVEN CLAYDON
Total Social Objects
27 April - 22 June 2013

David Kordansky Gallery is very pleased to announce Total Social Objects, an exhibition of new work by Steven Claydon. The exhibition opens on April 27 and runs through June 22, 2013; an opening reception will be held on Saturday, April 27 from 6:00 until 9:00 pm.

Steven Claydon dramatizes and interrogates the ways in which objects have been described, venerated, understood and misunderstood throughout the course of civilization. This process involves a wide range of social, historical, economic, and literary factors, and is intended to differentiate an object's social or anthropocentric 'agency' from its innate, 'thingly' materiality. In Claydon's sculptures, objects are not seen as the antitheses of living things, but as entities that differ from the living by a difference of a degree, possessed of their own 'animism' and with their own capacity for will, hubris, and desire.

Total Social Objects focuses on the migration of cultural forms, taking into account both physical movement and the transit of objects through hierarchies of ideas, values, and symbols. The exhibition consists of both floor- and wall-based works, and includes materials as diverse as steel, wood, aluminum, oil paint, straw, cuttlefish ink, and seaweed. Throughout, signifiers borrowed from maritime and shipping contexts have been passed through a visual sieve woven from numerous art historical tropes.

Prime examples of this thrust in the work are two sculptures based on canister-like forms that have been rendered in highly finished materials. Claydon transforms the container––itself predicated on absence and what might fill it, like a floating signifier––into a modernist totem perched on self-consciously museological bases. The containers, as forms, are thereby displayed in a state of revolt against the utilitarian or servile roles into which they have traditionally been cast: they are allowed to shine as their own luxurious beings, even as they are elevated to the status of works of art and become cultural 'products' of another kind.

Luxury is in fact one of the principal lines of signification that have been woven throughout the show. It can be seen in the color palette of reds, yellows, and neutral tones that unites the disparate materials on display, and keys associations, for instance, to high-end brands and the surfaces they fetishize. However, once displaced in the fictive, quasi-nautical realm that Claydon has created, these same colors simultaneously call to mind the seedier side of cultural transit, one that includes container ships and other purely utilitarian objects. The quality of luxury (especially as it pertains to artworks) becomes but one more burden that humans place upon the supposedly inert objects with which they surround themselves.

The exhibition also suggests that high-end objects undergo their own version of tarnish and decay as they are transported from one realm (be it spatial, temporal, or cultural) to another. In Sc-scaffold (London prick), the intensely yellow bust of a bearded figure suggests a paradoxical form, both classical and contemporary in origin; when seen from behind, however, the yellow gives way to a craggy, metallic material reminiscent of sunken treasure, with the word 'London' stamped into its surface in the style of a hallmark. The passage of time is revealed precisely in terms of its material effect, and––as in other works on view that include labels and 'brands' of various sorts, including strange, rune-like symbols more in keeping with science fiction and space travel than sea transport––language points both to identification (familiarity) and loss (missing referents).

In a series of wall-based works that straddle the lines between painting, sculpture, assemblage, and reliquary, the network of associations Claydon puts into play can be read as a kind of rebus. Perspex boxes contain various objects, including small, cartoonish, oil-on-linen images of sea creatures performing human activities; ceramic forms that appear to be Chinese dragons; and lengths of straw or video tape. They pose questions about why specific objects end up together, and about what produces the combinations of anthropocentrism and materiality that define them.

This is particularly true of Picture Element (aquatic apes YAC), in which a haunting, realistically-rendered painting of a boating scene hovers behind a veil of tinted cellophane, surrounded by a convex laminate frame. The work is part vision, part artifact, a shard of fictional history dreaming its way into reality.

Steven Claydon has been the subject of numerous solo exhibitions in institutional contexts, including Culpable Earth, firstsite, Colchester, Essex, England; Mon Plaisir... Votre Travail..., La Salle de bains, Lyon, France; The Ancient Set and The Fictional Pixel, Serpentine Pavilion, London; and Courtesy of the Neighborhood Watch, White Columns, New York. Notable group exhibitions include In the Space of the Beholder | Contemporary Sculpture, from the Sammlung Moderne Kunst, Pinakothek der Moderne, Munich; Soundworks, Institute of Contemporary Arts, London; Secret Societies. To Know, To Dare, To Will, To Keep Silence, Schirn Kunsthalle Frankfurt, Frankfurt, Germany and CAPC de Bordeaux; Time Again, SculptureCenter, New York; British Art Show 7: In the Days of the Comet; At Home/Not at Home: Works from the Collection of Martin and Rebecca Eisenberg, Center for Curatorial Studies, Bard College, Annandale-on-Hudson, NY; Golden Times, Haus der Kunst, Munich; Sympathy for the Devil: Art and Rock and Roll Since 1967, Museum of Contemporary Art, Chicago; and Rings of Saturn, Tate Modern, London. In addition, his work will be included in the upcoming Busted exhibition of outdoor sculpture on the High Line in New York. Claydon lives and works in London.