Bourgeois Leftovers
20 Apr - 16 Jun 2013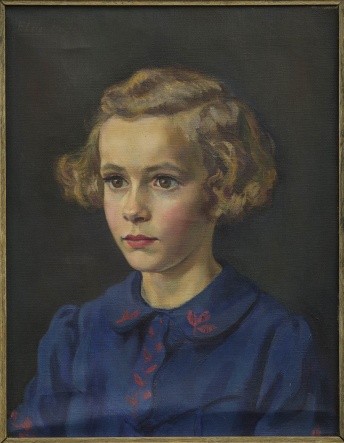 Johannes Franken
Portrait of Eliza, 1939
oil on canvas
Collection of the Van Abbemuseum, Eindhoven, the Netherlands. Photo: Peter Cox.
BOURGEOIS LEFTOVERS
20 April — 16 June 2013

18 April, 1936

Business rests for the day. The Tobacco Baron sits in his parlour.

[A knock at the door]

The Art Collector has come to call. They swiftly move to the dining room. Not much is said. Both know, economic matters of grave impor- tance will have to be discussed. But this can wait until after food has been served.

[Another knock]

The Visitor arrives late. Very late. By the time she is led in to the dining room, the Collector and the Baron have long moved on to the smoking room. She finds their plates on the table. Each has left a piece of steak behind. Why, she thinks. These are hard times. Were they not hungry? I am.


-------------------------

Bourgeois Leftovers, the exhibition of the 2012-2013 de Appel Curatorial Programme, hosts a group of unlikely conversation partners at de Appel arts centre. From 20 April – 16 June (Opening Friday, 19 April, 18:00-21:00), the exhibition presents 32 Dutch genre paintings leftover from the current Van Abbemuseum collection display, together with commissions and contributions from contemporary artists.

Contemporary contributions by Ayreen Anastas & Rene Gabri, Ruth Buchanan, Jota Castro, Dina Danish, Lydia Davis, Judith Deschamps, Marlene Dumas, Chris Evans, Will Holder, Jugedamos, Alison Knowles, Matthieu Laurette, Gabriel Lester, Daragh Reeves, Barbara Visser, and Timmy van Zoelen.

Paintings by Johanna Bauer-Strumpf, Arnout Colnot, Lucie van Dam van Isselt, Jacob Dooyewaard, Willem Dooyewaard, Edgar Fernhout, Johannes Franken, Jan Goedhart, Herman Heijenbrock, Eduard Karsen, Conrad Kickert, Willem Knip, Ernst Leyden, Sal Meijer, Dirk Nijland, Bart Peizel, Wim van de Plas, Coba Ritsema, Dio Rovers, Gé Röling, Wout Schram, Albert Servaes, William Henry Singer, Jan Sluijters, Walter Vaes, Cornelis Vreedenburgh, Betsy Westendorp-Osieck, and Matthieu Wiegman.

Curated by Karima Boudou, Kari Cwynar, Angela Jerardi, Srajana Kaikini, Florencia Portocarrero, and Alexandra Stock.

A reader related to the exhibition will be produced with Mousse Publishing and launched in June 2013. A series of public programmes exploring language and value will run throughout the exhibition, including collaborations with the Stedelijk Museum and the EYE Film Institute.

Each year de Appel art centre takes 6 young curators under her wings for an intensive professional development programme. During a period of approximately eight months they are offered a dense array of seminars, workshops, excursions (including a three-week research trip to a destination outside Western Europe), practice-related assignments and encounters with artists and art professionals.

Members of the tutorial team are Ann Goldstein (director Stedelijk Museum), Charles Esche (director Van Abbemuseum), Jan Verwoert (art critic), Barbara Visser (artist) and Liesbeth Bik (artist), amongst others. The programme culminates in a final project to be curated by the participants. In past years final projects have taken shape as festivals, radio broadcast, performance programmes and exhibitions.

The participants of the current year's programme are: Karima Boudou (1987, France/ Morocco), Kari Cwynar (1985, Canada), Angela Jerardi (1979, United States), Srajana Kaikini (1986, India), Florencia Portocarrero (1981, Peru) and Alexandra Stock (1982, United States).