Why Is Everybody Being So Nice?
11 - 14 Apr 2017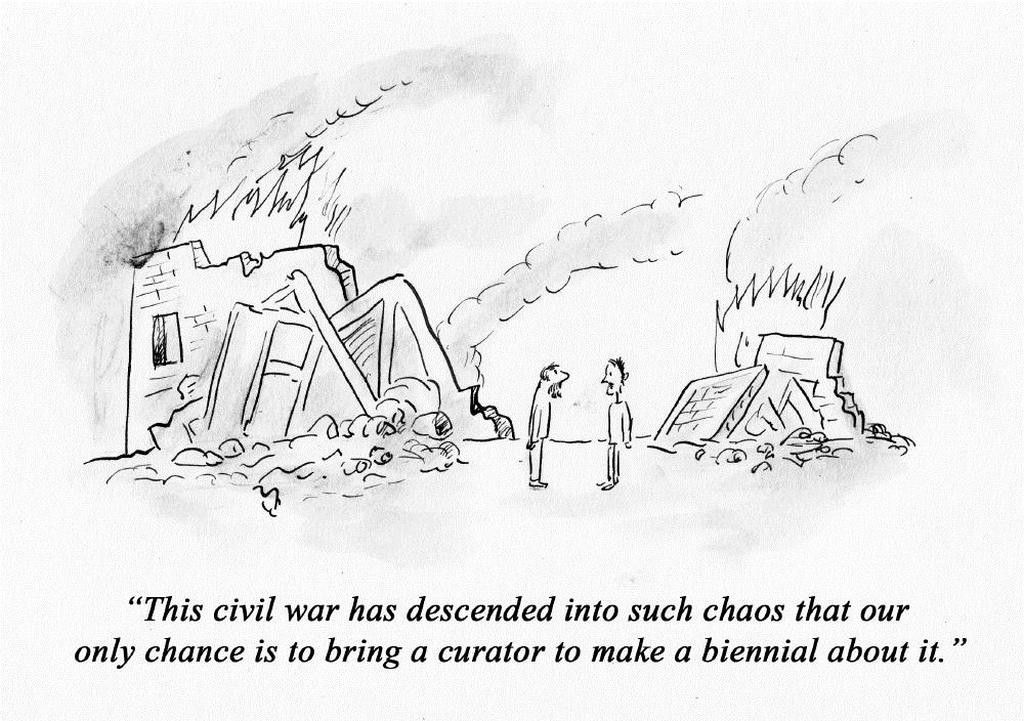 Pablo Helguera, "This civil war has descended into such chaos that our only chance is to bring a curator to make a biennial about it" (2017). Commissioned by De Appel Curatorial Programme 2016-17 for "Why Is Everybody Being So Nice?"
WHY IS EVERYBODY BEING SO NICE?
11 April – 14 April 2017

Curated By The Participants Of The Curatorial Programme 2016-17: Mira Asriningtyas, Lucrezia Calabrò Visconti, Mateo Chacon-Pino, Kati Ilves, Shona Mei Findlay, Fadwa Naamna.

Why Is Everybody Being So Nice? is a four-day long programme of panel discussions, workshops, screenings and performances that will investigate different case studies about the ethical and behavioural codes of conduct in the art world – where, in the words of Martha Rosler, "Niceness" "speaks to a demand, in neoliberal terms, for the wholesale invention, performance, and perpetual grooming of a transactional self".* Why Is Everybody Being So Nice? takes place from 11 to 14 April 2017 at the institution's new location: De Appel (thinks). The programme concludes with a "sleepover", The Night of Exhaustion and Exuberance, on the night of 14 April 2017.

Why Is Everybody Being So Nice? aims to provoke reflection and a critical investigation into the grey areas between ethics and etiquette that are expected of cultural producers, or anyone working within the sector of knowledge-based, post-industrial economies. Cultural producers are subject to a 24/7 workday – constantly shifting between underpaid professional labour and social self-promotion at V.I.P. previews, and are required to adhere to an unspoken set of moral rules and behavioural standards. In an act of instrumentalization of "political correctness", the product of the cultural worker is expected to tick the boxes that satisfy the politics of representation, comply with appropriate gender and racial quotas in an exhibition, and to readily accept an unpaid job under the premise of opening up new realms of opportunity in the reputation economy of the art world.

The neologism "Ethiquette" will be introduced as a tool, a fluid working term depicting the tension between ethics and etiquette, which will be investigated throughout the programme. "Ethiquette" portrays a behavioural standard imposed by civilisation processes in the West, and a way of navigating the logics of inclusion and exclusion in the art world. The ever-shifting meaning of the term will be a point of discussion within three case studies of recent occurrences in the contemporary art world. The three case studies will serve as a device and provide horizons to think through and navigate the broader issues of precarious labour in the knowledge economy.

The daily programmes aim to accumulate new perspectives, thoughts and ideas to imagine possible modes of resistance and counter strategies within the precarity of ethical and behavioural codes in the art world. The programme will conclude with The Night of Exhaustion and Exuberance, a collective "sleepover", consisting of performances and interventions that will allow for shared reflection on the issues raised throughout the week.

The Night of Exhaustion and Exuberance will also host Open Avond(s), a series of events initiated by E.I.Panza aimed at connecting historical and contemporary performance practices, which are selected through an open call. Within this collaboration, the practice of collective sleeping will be investigated as a gesture of resistance and appropriation of space and time (Don't miss the forthcoming open call on the website of De Appel!).