Being Singular Plural: Moving Images from India
26 Jun - 10 Oct 2010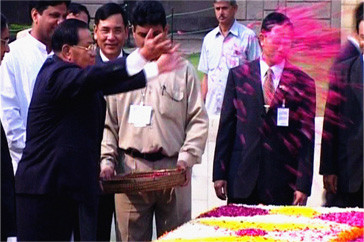 Amar Kanwar
The Face (from The Torn First Pages), 2005
© Amar Kanwar and Marian Goodman Gallery, New York/ Paris
BEING SINGULAR PLURAL
Moving Images from India

It unites a selection of recent films and videos that investigate the individual nature of life and the moving image and that are produced by some of the most innovative and rigorous media practitioners today: Shumona Goel and Shai Heredia, Sonal Jain & Mriganka Madhukaillya of Desire Machine Collective, Amar Kanwar, and Kabir Mohanty. All of these artists have a background in cinema and a majority of them continue to screen their films in international festivals. They employ film and video to formulate complex aesthetic, technological, and sociopolitical statements that question the often-bombastic cinematic strategies, methods, forms, and subjects of the global media industry. Being Singular Plural thus celebrates and explores the unobtrusive and the unseen.

Philosopher Jean-Luc Nancy's idea of "being singular plural" (from his book of the same name, first published in 1996), in which the individual is always understood within a social framework, provides the structural scaffolding for the exhibition. The films' and videos' images do not serve as windows to the world, nor point to any transcendental truths, but are presented as they are, distinguished by their evidence. As Nancy has argued, the emptying out of representation, wherein evidence lies, points to the moving image as an end in itself rather than a means to an end that may lie outside the image's surface.

This embodiment of truth, as it resides within the very structure and materiality of the moving image, overturns previous expectations of how it communicates - it seeks to bridge worlds through affect and sensation. Recognizing the complex character of the "first-person plural" and the interconnectedness of all beings, the selected films and videos invite the viewer to study, reassess, and challenge conventional categories such as fact and fiction, art and cinema, and objectivity and subjectivity, thereby instigating new kinds of viewership. By manipulating sound, image, and text in experimental ways, the artists shift viewers' positions from those of passive spectatorship to those of active participation-to places where the "we" of "being together" is located in the immediate here and now.

Sandhini Poddar, Assistant Curator of Asian Art, Solomon R. Guggenheim Museum, New York.