Color Fields
23 Oct 2010 - 16 Jan 2011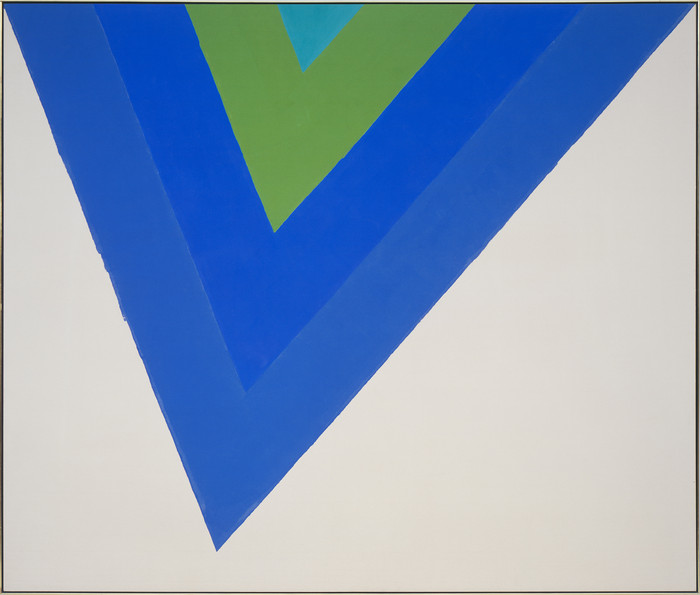 Kenneth Noland: Trans Shift, 1964, Acryl auf Leinwand, 254 x 288.3 cm
Solomon R. Guggenheim Museum, New York, Ankauf ermöglicht durch Elaine und Werner Dannheisser und The Dannheisser Foundation 81.2812
COLOR FIELDS

22 October 2010 - 10 January 2011

The early sixties marked a shift in sociopolitical attitude in the United States and many nations in Europe.

Whereas the leaders of the previous decades still had the Great Depression and the cataclysm of World War II in their minds, a youthful confidence characterized the next generation of leaders as well as permeated contemporary culture. A similar realignment took place in the arts. In the fifties and sixties many young, abstract painters in America began to turn away from the hallmarks of much Abstract Expressionism, particularly its emphasis on gesture and emotive content. They moved in two general directions: a radically optical style later given the name "Color Field painting", and an image-based style called "Pop art", which adapted material from the mass media. While Pop art constantly referred to contemporary society through its reconfiguration of consumerist images, Color Field painting consciously distanced itself from societal referents and focused on the lyrical possibilities of color.

Historically, a multiplicity of terms—Abstract Sublime, Cool Art, Hard-Edge painting, Lyrical Abstraction, and Post Painterly Abstraction—have been applied to align these painters at a moment when, for the first time since Impressionism, pure opticality held primacy over content and form. The Solomon R. Guggenheim Museum, New York, acquired several examples of this work at the time of their creation and displayed them in landmark exhibitions of the sixties and seventies. In 1961, the Guggenheim Museum presented the exhibition American Abstract Expressionists and Imagists, a survey of contemporary trends in art. This exhibition made apparent that there was more diversity to New York painting than just the gestural canvases of Action Painters. Art historian H. H. Arnason organized the exhibition and among the artists shown, identified Hans Hofmann and Mark Rothko for their use of predominantly flat areas of color and geometry. Numerous exhibitions addressing fields of color followed, most significantly prominent critic and curator Clement Greenberg's Post Painterly Abstraction in 1964 at the Los Angeles County Museum of Art and Lawrence Alloway's Systemic Painting in 1966 at the Guggenheim.

The thirteen artists in Color Fields are among the many included in these past presentations who were moving abstraction in new directions while Pop art dominated the American art scene. Some artists applied pigment in large expanses, even covering the entire canvas. Their work emphasized the flatness of the picture plane, marking no distinction between subject and background. Large-scale canvases by Helen Frankenthaler, Morris Louis, and Jules Olitski exemplify Color Field's expanses of color often stained into (rather than painted onto) the support. These artists and their contemporaries, in spite of their differences in technique—some applied paint with a traditional brush, while others poured, rolled, soaked, or sprayed their pigments—all explored the nuances and power of color at a moment when the United States was embracing the energy of the youth, as well as trying to break free from the tumult of the previous decades.