IMI KNOEBEL: ENDUROS Sammlung Deutsche Bank/ Deutsche Bank Collection
04 Jul - 02 Aug 2009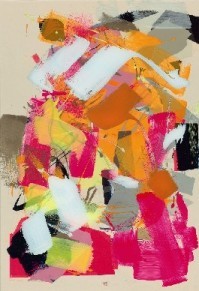 Imi Knoebel: Untitled, from the series Drachenzeichnung, 1980, Acrylic, varnish, graphite and foil on paper, 98 x 68 cm, Co: VG Bild-Kunst Bonn 2009
Each year the Deutsche Guggenheim presents an exhibition conceived by the Deutsche Bank. In 2009 the show is dedicated to Imi Knoebel, whose complex oeuvre is presented in two "acts": Under the title ICH NICHT, new pictures of the artist were on view from May to June 2009. ENDUROS, the second part of the exhibition, now gives insights into the artist's creative work and development from 1968 to 2005.

Along with exemplary paintings, around 200 collages, drawings, photographs, and graphic prints from the Deutsche Bank Collection provide an insight into the non-representational formal vocabulary of the artist. Since the first acquisition in 1984, the number of works in the Deutsche Bank Collection has grown to more than 1000 sheets today. Ever since he began as a student of Joseph Beuys, Imi Knoebel has been dedicated to the examination of the heritage of classical modernism and the elementary question of what position art can assume today. For more than forty years, he has been consistently working on an oeuvre that, starting from the visionary, abstract painting of Kazimir Malevich, pulls all the stops of non-representational art.
The works shown here additionally pay tribute to a medium which from the very onset has also defined the special focus of Deutsche Bank's commitment to art: paper.

With more than 56,000 works of art, the Deutsche Bank Collection is considered the world's most important collection of drawings and photographs after 1945. Since its first purchase in 1984, the collection has acquired more than 1,000 works on paper by Imi Knoebel. He now joins a line of artists such as Georg Baselitz, Neo Rauch, Richard Artschwager, Kara Walker and Cai Guo-Qiang, for whom Deutsche Bank has organized solo exhibitions in its gallery at Unter den Linden.

The monographic catalogue published in conjunction with the exhibition contains more than 300 illustrations and essays by Hubertus Butin, Jörg Heiser, Friedhelm Hütte, David Moos, Petra Richter, Martin Schulz and Johannes Stüttgen. Two special editions conceived for the show at the Deutsche Guggenheim are also available (all proceeds will be donated to the charity Kinderstern e.V.).

The exhibition at the Deutsche Guggenheim was realized in close cooperation with the artist and with the Neue Nationalgalerie, where Knoebel's installation Zu Hilfe, zu Hilfe... will be on view.